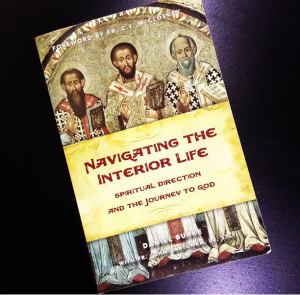 No one seeks God alone. Everyone needs help.
But it's far too easy to get lost on our journey to God. The world is constantly drawing us away from God, muddling our compass, and steering us off course. But Sacred Scripture warns us to "Be sober, be watchful," and to stay "firm in the faith" (1 Peter 5:8-9).
Everyone should pay attention to their interior (spiritual) life and to the various movements of their soul. Everyone should learn how to look for God's providence in all circumstances. But it's hard to know how to do this when you're on your own, both for the experienced and inexperienced.
The spiritual journey, however, need not be a complicated one . . . with the right help. The Christian pursuing holiness is foolhardy not to seek the counsel and direction of wise and experienced mentors in the spiritual life.
Scripture warns us that "The Spirit is willing, but the flesh is weak" (Mt. 26:41). One of the helps for our weak flesh is the guidance of a spiritual director.
According the the author of a new and popular book, Navigating the Interior Life,
"Without exception, the teachings of the saints and spiritual doctors of the Church agree: spiritual direction is among the most powerful tools to help us in the battle. Spiritual direction is the means through which the Holy Spirit guides us and provides coaching for our souls."
Spiritual direction is a relationship through which we come to better know, love, and follow Christ with the assistance of a seasoned spiritual guide. A good spiritual director can help you understand the spiritual life and to navigate its twists and turns. They can also help you retain your interior composure, particularly during times of dryness, confusion, and discouragement.
But most of us have questions about spiritual direction. What exactly is it? Do I really need it? How do I choose a spiritual director? What if I can't find one? What is the first step?
Navigating the Interior Life answers these questions and more. And just as a plan is necessary for the success of any voyage, the spiritual life is no exception. There is some ground work to do before you seek out spiritual direction. You have to pay attention to your spiritual life and know where you are in your own journey to the heart of God; this information allows a spiritual director to better guide from where you are now.
What are the phases of the spiritual life? Where am I? Am I moving towards God or away from Him? How can I get unstuck? How can I find peace? How can I deepen my relationship with God? How can I avoid false spirituality? How can I deepen my prayer life? How do I find someone to help me answer these questions?
This new book provides a step by step plan:
This book places a compass in our hands—the compass of Christ-centered spiritual direction. It provides a clear map on how to find that spiritual director and navigate your spiritual path. A book that quickly became About.com's 2013 Reader's Choice Winner, Navigating the Interior Life is a simple handbook for seeking God.
This book is informative, succinct, logical and balanced . . . a go-to guide for any question you have about spiritual direction and making progress in the spiritual life. This accessible and practical book includes helpful charts and graphs to lay out the frequency and number of your spiritual disciplines, helping you to "see" your spiritual life more easily.
It also includes targeted questions for self-assessing your current spiritual life and where to go from there, providing a helpful framework for anyone seeking to grow in relationship with Our Lord.
This immensely practical book helps Catholics in ... understanding the general direction or trajectory of one's soul, working with a spiritual guide to help unite one's soul to God, and finding peace and joy through the pursuit of God's will.
A process for growing in holiness:
Covering each of these important pathways to peace and holiness, this book will serve the souls of those who are seeking to deepen their relationship with God and find their spiritual direction. Whether you are at the beginning of the process, a veteran of spiritual direction, or struggling outside of spiritual direction, this book will help you uncover a map of success for your journey.
Plan a course by developing a "Rule of Life" that's easy to stick to. Give yourself a tool to live out the universal call to holiness.
"There is no better time than now for such a solid resources concerning spiritual direction . . . if we are going to grow in our faith we need good solid guidance to help us along the way. Dan's book provides a step by step plan for those who may be seeking spiritual direction for the first time as well as those hoping to dive much deeper into their relationship with the Lord and His Church." ~Teresa Tomeo
About the Author:
Dan Burke is also the Executive Director of and writer for EWTN's National Catholic Register, a regular co-host on Register Radio, an author and speaker who provides webinars and travels to share his conversion story and the great riches that the Church provides us through authentic Catholic spirituality. Dan has been featured on EWTN's Journey Home program and numerous radio programs. What is spiritual direction and my spiritual direction? What are my "blind spots" and how can I uncover them? What keeps me from all the spiritual riches Christ has for me? How can I better understand where I am in my spiritual progress? Daniel Burke's Navigating the Interior Life will give you the tools you need to understand how and why we grow and die in the spiritual life and what we can do about it.