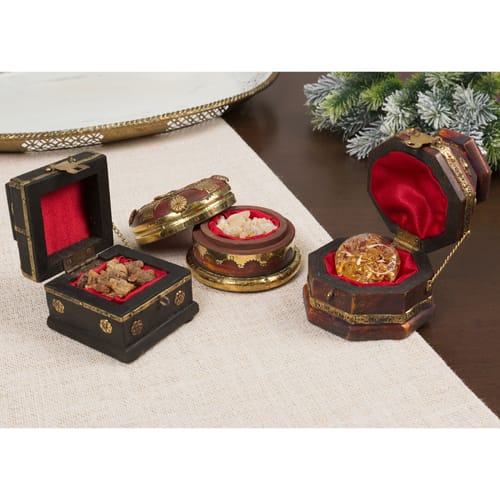 Three years ago at the Catholic Marketing Network annual gift show I happened across a small gift vendor with a very unique idea. The founder of Three Kings Gifts, Rich, had a profound experience in a market in Dubai while there on other business. He stopped at a booth selling frankincense and myrrh. Rich immediately felt that others would appreciate having or giving the original gifts of Christmas to others back home in the states. Back then The Original Gifts of Christmas were available only as one gift set. Now there are several gift sets available in several sizes to match any decor or budget. Some sets now include statues of the Magi themselves similar to a Nativity set.
These gift sets are attractive because of the real 23 carat gold, frankincense, and myrrh that make up the focus of the items. These are the actual gifts that baby Jesus received after his birth in traditional boxes that look like they might have been built 2,000 years old.
The Original Gifts of Christmas have been very popular Christmas gifts at The Catholic Company for several years and as a product line, they continue to develop so they are great as gifts year after year. Start a new tradition similar to displaying a Nativity in your home, but with the Original Gifts of Christmas!