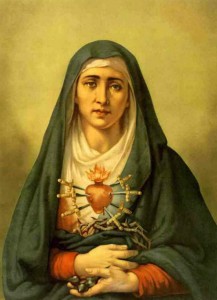 Today is the feast day of Our Lady of Sorrows. This feast day was born of the Servite Order, and in the seventeenth and eighteenth century it spread throughout the Catholic Church. I would like to share an excerpt from "Our Lady of Sorrows" by Fr. Paul Haffner (Inside the Vatican, September 2004):
"This feast is dedicated to the spiritual martyrdom of Mary, Mother of God, and her compassion with the sufferings of her Divine Son, Jesus. In her sufferings as co-redeemer, she reminds us of the tremendous evil of sin and shows us the way of true repentance. May the numerous tears of the Mother of God be conducive to our salvation: with which tears Thou, O God, art able to wash away the sins of the whole world."
Doesn't Father Haffner do a great job explaining the importance of this magnificent feast day? I would be remiss if I did not also mention the seven sorrows of Mary. Our Lady of Sorrows feast day calls to mind these seven sorrows and we ought to reflect on them. They are:
The Prophecy of Simon (Luke 2:25-35)
The Flight into Egypt (Matthew 2:13-15)
Loss of the Child Jesus for three days (Luke 2:41-50)
Mary Meets Jesus on his way to Calvary (Luke 23:27-31, John: 19:17)
Crucifixion and Death of Jesus (John 19:25-30)
The Body of Jesus being taken from the Cross (Psalm 130; Luke 23:50-54; John 19:31-37)
The Burial of Jesus (Isaiah 53:8; Luke 23:50-56; John 19:38-42; Mark 15:40-47)
On this feast day I urge you to do something special, something out of your way, to honor and reflect on Our Lady of Sorrows. It could be something like baking a heart-shaped cake pierced with seven swords in honor of Our Lady. Or you could honor her by distributing Our Lady of Sorrows prayer cards, rosaries, or prints. Those are just a few ideas, to find more please check out this blog post.
Has this blog been helpful in understanding what the feast day of Our Lady of Sorrows is about? How do you plan on honoring Our Lady of Sorrows today?