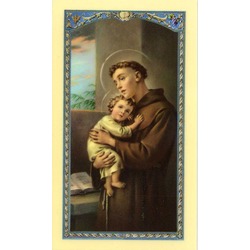 Life is filled with moments that challenge us. Moments in which we are challenged by grief, challenged by lack of faith, and challenged by lack of inspiration. How do we deal with these moments and help others to make the most of these moments as well? An idea which I feel that sometimes rarely comes to mind is the use of prayer cards.
Prayer cards are a simple yet beautiful and effective gift which can offer exactly what we might need in that moment. Prayer cards typically have an image of Jesus, the Blessed Mother, or a Christian design as well as a simple yet powerful prayer. Prayer cards do the most important job of encouraging us to pray. Whether the prayer card be for a sacrament, funeral, feast day, etc., they all have the same intention to encourage us to pray. And who doesn't need that?
Many prayer cards can also be personalized which allows for you to honor someone or add your own personal flair. For example, many funeral prayer cards allow you to provide your own prayer which can be one of grief and encouragement that you particularly like, or a prayer which the deceased especially enjoyed or cherished. Likewise, you can personalize prayer cards for sacraments which allows you to include your favorite prayer with the date of the sacrament and other personal touches. Personalized prayer cards allow more freedom to you in order to make the most of the prayer cards for the people in your life.
Prayer cards are clearly a beautiful gift which could stick with someone for a long time. I still have prayer cards from chapels I have visited and from my confirmation many years ago. The beautiful images and prayers on the cards make them a treasure I love, and that I enjoy posting to my walls. Which prayer cards are your favorites?