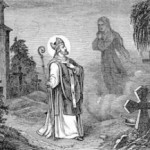 Saint Malachy was born of Irish nobility in Armagh in 1094. He was ordained at the age of 25 after the death of both of his parents. He served as Abbot at Bangor, Bishop of Connor, Ireland, and Archbishop of Armagh. Saint Malachy introduced uniformity in Ireland by replacing the Celtic liturgy with the Roman liturgy and was a noted healer.
Saint Malachy, as you can see, was an incredible Saint but what makes sets him apart?
I have yet to mention that St. Malachy was the first Irishman to be canonized and I'm sure you agree that its never easy being the first do be or do anything.
And he had the gift of prophecy like few others. Many saints were gifted with prophecy and that gift usual meant an accurate prediction of their death date and maybe an accurate prediction of some natural disaster. St. Malachy however, predicted the line of pontiffs! The prophecy is very controversial as some claim it to be a forgery due to the fact that it was lost for four centuries.
The Prophecy of Saint Malachy
As I have already mentioned, it is the Prophecy of St. Malachy concerning the line of popes that sets him apart from all other saints. According to tradition, he had a vision while in Rome of the line of popes and to each there was a phrase describing him. Such as Crux de Cruce (Cross from a Cross) or Lumen in Caelo (Light in the Sky). Many have taken the time to find the connection between these phrases and the popes they match up with (some connections are far more of a stretch than others). According to the prophecy, there is one more pope following Saint Benedict XVI before the prophecy jumps to Petrus Romanus (Peter the Roman) whom will be the final pope.
An example of applying the prophecy is the 110th prophecy, "De Labore Solis" (Of the Solar Eclipse, or, From the Toil of the Sun). The corresponding pope of this prophesy is Blessed Pope John Paul II whom was born during an eclipse of the sun. Furthermore, the sun shines on all the earth as did Blessed Pope John Paul II whom is the most well-traveled Pope. But that's not all!
Saint Malachy also had a prophecy concerning Ireland. He predicted that Ireland would fall under persecution and oppression by England for 700 years! Furthermore, that Ireland would be delivered from their sufferings and be instrumental in bringing England back to the Catholic Faith after trying to rid itself from the Faith for 300 years. History has definitely shown these actions to have taken place as England endeavored to remove itself from Catholicism for centuries but now the number of practicing Catholics are greatly on the rise.
Fun Facts of St. Malachy
Saint Malachy is the patron of Ireland and his feast day is November 3rd.
He is typically represented with either a book or encountering his sister's dead spirit as seen in popular St. Malachy Medals.
St. Malachy died in the arms of Saint Bernard of Clairvaux, his biographer.
He was the spiritual teacher of Blessed Christian O'Conarchy.