St. Raphael is one of the seven Archangels who stands before the throne of God. He is also one of only three angels whose names have been revealed through Sacred Scripture. His name in various translations means "God heals," "Divine Healer," or "Medicine of God," for he has received his healing mission from the Lord. He is the patron saint of travelers, blindness, all bodily ills, doctors, nurses, medical caregivers, and joyful meetings. His feast day is now celebrated along with St. Michael and St. Gabriel on September 29.
St. Raphael is generally believed to be the "angel of healing" mentioned in John 5:4 who came to the pool of Bethsaida. St. John explains that an angel of the Lord descended at certain times, stirring the waters, so that those who washed in them were healed. This reference is present in some versions of the Catholic bible such as the Douay-Rheims and is a footnote in others such as the RSV and NAB-RE.
[[5718]]
The Old Testament Book of Tobit tells the beautiful story of the healing power of St. Raphael the Archangel. Tobit was a righteous and faithful man of God who lost his sight in later years. In agony over his blindness, he begged God to take his life. At that very same moment, the Scriptures tell us, Tobit's young kinswoman Sarah was also beseeching God for his help. Seven husbands had died in her bridal chamber on their wedding nights at the hand of a demon. The deaths brought shame and despair to Sarah and her family.
As these two devout souls prayed, God heard the cries of their hearts. And in his incredible mercy and love, He sent St. Raphael, disguised as a man named Azariah, to heal them both.
St. Raphael presented himself as a kinsman of Tobit and his son Tobias, offering to accompany Tobias to recover a debt owed to his blind father in a faraway territory. In the midst of this journey, they came to a stream, and encountered a large fish that attempted to swallow the foot of Tobias. St. Raphael (whom Tobias thought was "Azariah") instructed him to seize and kill the fish and remove certain organs. "Its gall, heart, and liver are useful for medicine," he said.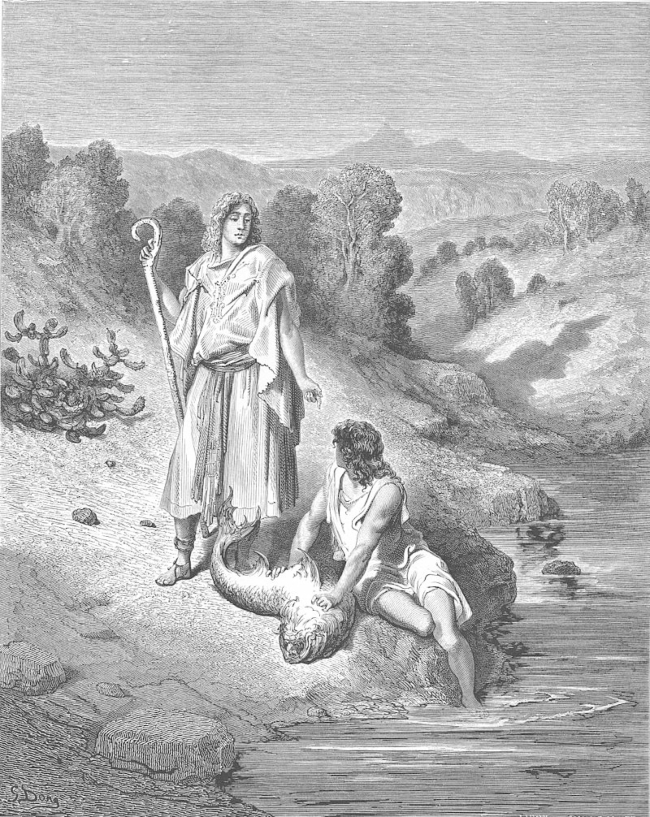 St. Raphael then helped Tobias discern that his kinswoman Sarah would make a fine wife. He eased Tobias' fears about the death of her previous seven husbands.
The disguised Archangel and the young Tobias proceeded to travel through Sarah's homeland and then stopped to rest on their long journey. Tobias asked Sarah's hand in marriage and the young couple wed. On their wedding night, Tobias used the organs of the fish in a remedy that St. Raphael taught him, causing the demon to flee.
[[17411]]
St. Raphael pursued the demon secretly and bound him. He then finished the journey to collect the debt for Tobit on his own, while Tobias celebrated his marriage to Sarah, and the three soon traveled home to Tobit and his wife Anna.
On the journey home, St. Raphael told Tobias that he must smear the gall of the fish on the eyes of his blind father. They arrived safely, and were greeted, and Tobias used the gall on his father's eyes as he had been instructed. Tobit was healed and rejoiced with great thanksgiving to the Lord.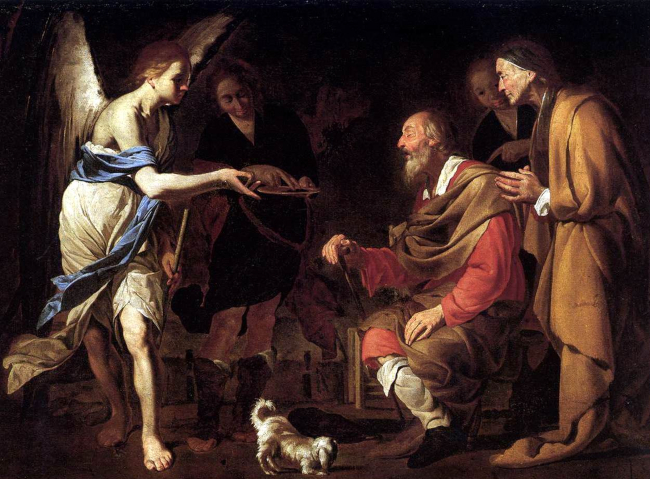 Only then did St. Raphael reveal himself as the "angel of the Lord," explaining that he was one of the seven angels who stand before the throne of God. It was he who had presented their petitions to the Lord when Tobit and Sarah prayed from their hearts. God had sent him to heal them both.
This beautiful account assures us that God sends his angelic messengers to lead, guide, and guard us as we undertake earthly journeys and aspire to heavenly ones.
Cultivating a relationship with a healing saint like the Archangel Raphael is a wonderful way for us to grow in our faith. When we seek the intercession of the saints, we exercise great trust in God and in them by binding ourselves more closely to heaven and the Church. It opens another door for Our Lord to work even more powerfully in our lives. After all, we are inviting God to work through our heavenly friends, which gives glory to Him in a very particular way. It shows faith and hope in what He has done in and through their lives. It shows the confident expectation of what He can and will do in ours.
Our Loving God has given St. Raphael the angelic mission to heal minds, bodies, and situations. This is his role in the Heavenly Court and before the throne of God. We can have recourse to this powerful archangel in our own brokenness, illness, and suffering. Who better to turn to when we are in need of healing than the one God Himself has chosen for us?
St. Raphael, like any saint, exists to serve the will of God. Of course, as we invite the Archangel to come to our aid, we must be mindful that our own definition of healing may not be exactly what our good God intends. Healing comes in many forms, and perhaps that which we suffer is necessary for our sanctification. Perhaps it can be used by God on behalf of souls. Since St. Raphael's name means "God Heals," he will bring healing to your situation, even if it is not done as you expect. He may gain for you or your loved one the virtues and graces needed to suffer well. His healing may come in the form of helping you peacefully embrace God's will. If complete physical healing does not come through your prayers, or if your healing comes in another form, do not despair.
Be like Tobit and Sarah. Ask St. Raphael to carry the cries of your heart to the throne of God. Then trust that he is working on your behalf. "God's Medicine" is not always in the form we expect, but through the intercession of this powerful Archangel, it is a remedy for our many ills.
At this time, our world and our Church are undergoing great suffering and purification. St. Raphael is a powerful "Divine Healer" for the world, the Church, and for us. Together, let us lift our prayers to him. Let us ask his intercession before the throne of God, that we might have faith that the Lord will hear and respond to the prayers of our hearts as he did for Tobit and Sarah.
A Prayer to St. Raphael the Archangel

Glorious Archangel St. Raphael, great prince of the heavenly court, you are illustrious for your gifts of wisdom and grace. You are a guide of those who journey by land or sea or air, consoler of the afflicted, and refuge of sinners. I beg you, assist me in all my needs and in all the sufferings of this life, as once you helped the young Tobias on his travels. Because you are the "medicine of God" I humbly pray you to heal the many infirmities of my soul and the ills that afflict my body. I especially ask of you the favor (here mention your special intention), and the great grace of purity to prepare me to be the temple of the Holy Spirit. Amen.
This book about St. Raphael contains a short summary of the scriptural background, prayers, and information that encourage us to seek his powerful intercession before the throne of God.
Has St. Raphael answered prayers of yours? Do you have a story you'd like to share?

Maybe you're seeking his intercession for the first time.
Share your thoughts with us in the comments below!