Today is the feast day of the great, St. Ignatius of Loyola. The legacy of St. Ignatius of Loyola reminds us of one of life's great lessons: God's plans for you are greater than your plans for you. St. Ignatius had to learn this the hard way, and I think many of us learn this the hard way as well.
THE LIFE OF ST. IGNATIUS
St. Ignatius of Loyola was born in 1491 in Guipuzcoa, Spain. He was born to Spanish nobility and was the youngest of 13 children. He lived the normal childhood and adolescence of Spanish nobility, wealthy and vain, and entered the Spanish military in 1517.
At this point in his life he undoubtedly had plans of moving through the military ranks as a valiant knight, serving as a courtier for the Spanish crown, having a family, owning a castle like the one he was raised in, and living the privileged life of Spanish nobility. However, God had far different and greater plans for Ignatius.
St. Ignatius' life began to change in 1521 when in a cannonball greatly crippled him in battle, and failed surgeries only worsened the injury. St. Ignatius was bedridden for about a year, and during that time he only had access to The Golden Legend, a collection of saint biographies, and The Life of Christ by Ludolph the Carthusian.
After reading these books he experienced a radical religious conversion which drastically changed his outlook on life, and left him with a deep desire to pattern his life after Jesus Christ and his saints from that point on.
After rehabilitation was over, St. Ignatius took a vow of chastity, renounced his possessions, and went on a pilgrimage to Rome and the Holy Land. He worked at odd jobs along the way, begged for his food and passage, and spent long hours of prayer and contemplation in a cave. Seeing his need for an education so that he could better serve God, he later returned to Spain to study theology in Barcelona in 1528. At Barcelona he began not only attracting enemies (some did not like his humble lifestyle) but also followers.
While at university he began experiencing visions, scruples (essentially extreme guilt, sometimes accompanied with despair, over sins or supposed sins), and meditations which all contributed to his well-known work The Spiritual Exercises as he tried to discern which inspirations were from God and which were from the Enemy of souls. Out of the university he found followers to join him in starting the Society of Jesus, today commonly known as the Jesuits. The new religious order served as zealous missionaries all over the world.
ST. IGNATIUS' LASTING INFLUENCE
St. Ignatius clearly lived an amazing life which took a direction that he could have never imagined, and died at the age of 65. The war wound, which left him crippled and dashed his hopes of knighthood and valor, was the very means God used to invite him to a life of greater glory and valor than he could have ever dreamed of, in service to the Church and the world.
The Society of Jesus, which he founded, today has over 30,000 members and teaches over 200,000 students at over 500 universities and colleges throughout the world. Furthermore, 38 members of the Society of Jesus have been declared Blessed, and 38 have been canonized as saints.
Have you ever experienced a deep religious conversion where God radically changed the direction of your life? If so, please share in the comments below.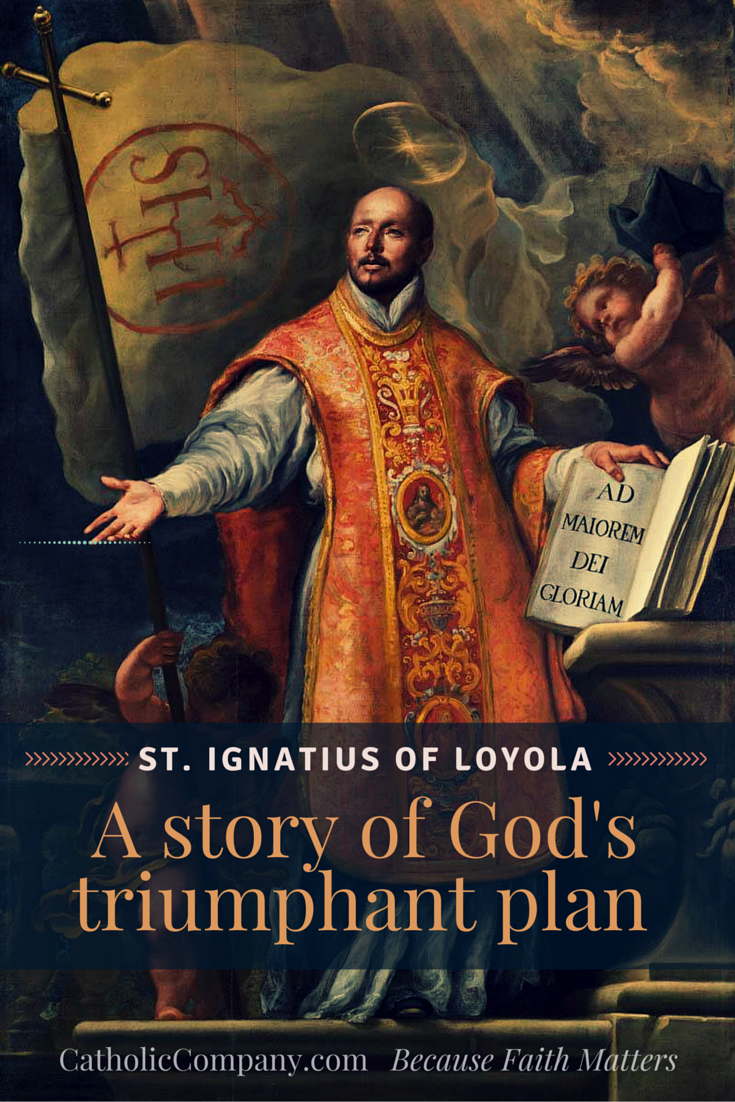 This article has been updated and was originally published in July 2012. © The Catholic Company