The Catholic Church has a new saint unique among all others . . . the first Native American Indian to ever be proposed for sainthood.
St. Kateri Tekakwitha was beatified by Pope St. John Paul II in 1980 and canonized in October 2012 by Pope Benedict XVI during the opening ceremonies for the Year of Faith. Her feast day is July 14 and she is the patron saint of the environment, ecology, and orphans.
Not only is her canonization wonderful because she is an example of the Church's mission to evangelize all tribes and tongues, but St. Kateri's short life is also a lesson in heroic virtue that is undoubtedly intended by the Holy Spirit to be a source of inspiration for our modern times.
A SHORT BIOGRAPHY OF ST. KATERI
St. Kateri Tekakwitha, affectionately called the 'Lily of the Mohawks', was born in New York in 1656 to a Mohawk chief father and an Algonquin mother. Her mother was converted to the Christian faith by Jesuit missionaries.
Although Kateri's mother became Catholic, she practiced her faith in secret due to the hostility between the Indian tribes and the missionaries. She was even forbidden to have Kateri baptized.
When Kateri was just four years old a smallpox epidemic swept through her village, killing her entire family. In addition to leaving her orphaned, the disease left her partially blind, disfigured, and crippled. She was then adopted and raised by her uncle, who detested the Christians.
As she grew older, Kateri longed for the faith of her mother, faintly remembering the prayers she was taught as a child. Tensions were high between herself and her tribe because she staunchly refused the pressure they put on her to marry. She was divinely drawn to seek out the Jesuit missionaries who were evangelizing and teaching near her village.
At the age of twenty, Kateri was secretly baptized by the Jesuits with the name Catherine (which translates "Kateri") after St. Catherine of Siena. Her uncle did not approve of her conversion, and as a result Kateri was ostracized from her village, treated harshly, and bullied. When it became clear that her life was in danger, with the aid of a priest she fled for refuge at a French Jesuit mission in Montreal, Canada.
Kateri trekked over 200 miles through rough terrain to reach the Christian settlement, a daunting and dangerous two-month journey, undoubtedly made more difficult due to her poor eyesight. Once safe at the mission, she realized her desire to live a simple life of prayer and penance. She declined marriage again, and lived as a single woman of deep faith, offering her sufferings and her life completely to Christ.
Her great sanctity, virtue, mystical prayer life, and love for Jesus amazed the Jesuit priests and everyone who knew her. It is said that people loved to be around her and to listen to her speak, because her soul radiated the beauty and peace of God.
Kateri Tekakwitha died of an illness in 1680, during Holy Week, when she was just twenty-four years old. The priest who attended her bedside at the time of her death testified that Kateri's face, which was
"... so disfigured and so swarthy in life, suddenly changed about fifteen minutes after her death, and in an instant became so beautiful and so fair that just as soon as I saw it (I was praying by her side) I let out a yell, I was so astonished, and I sent for the priest who was working at the repository for the Holy Thursday service. At the news of this prodigy, he came running along with some people who were with him. We then had the time to contemplate this marvel right up to the time of her burial. I frankly admit that my first thought at the time was that Catherine could well have entered heaven at that moment and that she had—as a preview—already received in her virginal body a small indication of the glory of which her soul had taken possession in Heaven."
A SAINT FOR OUR TIMES
Saint Kateri Tekakwitha made a heroic decision to respond to God's call to live a devout Christian life through her trials and deep suffering—epidemic disease, tensions and fighting among warring Indian tribes, and the severe persecution of her faith.
Even though she lost her family, her eyesight, her physical beauty, her good health, and her village, she used all of these extremely difficult personal circumstances to cultivate a life of deep prayer and sanctity.
She is a model for our own times in that she shows us how, with faith in Christ, we can persevere no matter what personal calamities, social unrest, or religious persecution may come to us. St. Kateri overcame every obstacle by submitting herself entirely to Jesus Christ. She is also a model for young people who are striving to live a holy and chaste life, especially without the guidance of parents.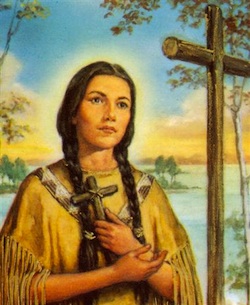 Pope St. John Paul II, at her beatification, called St. Kateri God's "bountiful gift" to His Church and a "sweet, frail yet strong figure of a young woman." It is said that St. Kateri's last words were, "Jesos Konoronkwa," which translates, "Jesus, I love you."
At her canonization Mass, Pope Benedict XVI remarked on the miracle of grace in her life, how she rose to such a height of sanctity despite the circumstances of her upbringing, which would otherwise have been detrimental to the fostering of a Christian vocation.
"Kateri impresses us by the action of grace in her life in spite of the absence of external help and by the courage of her vocation, so unusual in her culture. In her, faith and culture enrich each other! May her example help us to live where we are, loving Jesus without denying who we are. Saint Kateri, Protectress of Canada and the first native American saint, we entrust to you the renewal of the faith in the first nations and in all of North America! May God bless the first nations!"
St. Kateri is the patron saint of ecology and the environment, orphans, Native Americans, and people ridiculed for their piety. If you have a special devotion to St. Kateri, please share below why she is special to you and any help you have received through her intercession.
This article has been updated and was originally published in January 2013. © The Catholic Company