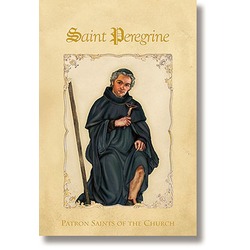 Today is the feast day of none other than St. Peregrine. Saint Peregrine was born in 1260 to a wealthy family and became an activist against the papal party of his hometown, Forli, Italy. Forli was part of the Papal States and therefore governed by the Pope. Many, including St. Peregrine's family, were opposed to being under the governance of the pope. During one of the uprisings he took part of, he had the chance to slap St. Philip Benizi and he took it. Saint Philip Benizi responded by turning the other cheek and St. Peregrine's life would never be the same.
This dramatic experience was the beginning of a conversion that would forever change his life. After the encounter with St. Philip he had a vision from Our Lady and was told to join the Servite Order. St. Peregrine was one of the most hardworking Servites to have ever lived. Legend has it that he lived a life of solitude and silence in which he went without sitting for thirty years. Saint Peregrine has been described as a fervent preacher and incredible confessor. He is also an incorruptible saint.
Saint Peregrine is remembered today most of all as being the patron saint of cancer. During St. Peregrine's years of service he developed cancer in his foot. He was scheduled to have it amputated but prayed constantly that it be healed. The night before the operation he received a vision of Christ touching his foot and healing it. The next day the foot was completely healed and cancer free. Since then many have invoked St. Peregrine to pray for them that their cancer might be healed.
If you or a loved one is struggling or has struggled with cancer, then getting them or yourself a St. Peregrine medal might be the perfect gift. St. Peregrine medals are beautiful and remind us that cancer can be overcome, there is hope. St. Peregrine rosaries also have a Saint Peregrine medal as their centerpiece and remind one to offer the rosary as a prayer for healing. Honoring Saint Peregrine through one of his medals or rosaries might make you or your loved one's struggle through cancer much more bearable. How have you or loved one's remained confident through a struggle with cancer?