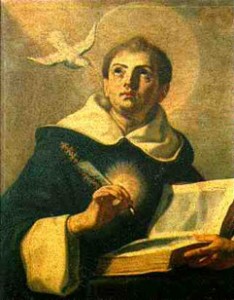 Soon we will be celebrating the feast day of one of the greatest Doctors of the Church, St. Thomas Aquinas. St. Thomas Aquinas is remembered for his numerous accomplishments in both philosophy and theology which is a rare feat amongst Doctors of The Church. Saint Thomas Aquinas is most famous for writing the Summa Theologica, written as a manual for Christian doctrine. This is still used today in universities, seminaries, colleges, and high schools across the world. Saint Thomas Aquinas is by far one of the most well-respected philosopher-theologians by both Christians and non-Christians alike.
             St. Thomas Aquinas was born in approx. 1226 and died less than 50 years later in 1274. He was discovered as having a quick and clever wit from an early age, as well as preserving in chastity that was astounding amid all of the wordly temptations. These virtues as well as his deep understanding of the metaphysics of angels have led to his title, the Angelic Doctor. St. Thomas Aquinas is also known as the "dumb ox." He received this title during his years of schooling in Cologne in which he was very quiet and quite large. St. Thomas Aquinas joined the Dominican Order, after his years in school despite opposition from his family, and pursued writing, teaching, and preaching with great fervor.
             Saint Thomas Aquinas is the master scholastic. His philosophy and theology were intertwined through the inspiration of Augustine and Aristotle. Today St. Thomas Aquinas' largest accomplishment is his philosophy of the right connection between faith and reason. Aquinas silenced many critics in his day and even today by putting reason in the service of faith and God. He ushered in a new era in renewed interest in philosophy by theologians through his writing's and teaching's. Not surprisingly, St. Thomas Aquinas is the patron saint of universities and students. His feast day is January 28th.
Perhaps you can honor St. Thomas Aquinas by reading one of his books. Or maybe you can purchase a St. Thomas Aquinas medal for someone in your family who is studying at a university or is a student in general. A St. Thomas prayer card might also make the perfect gift to a youth group or a confirmation class. However you choose to honor St. Thomas Aquinas, have a great and blessed day remembering the life of one of the greatest Doctors and Saints of the Church.