It is not a coincidence that Catholic Latinos are highly devoted to the Virgin Mary.  It is a heritage from Spain and it is due to the series of mystical manifestations that occurred throughout the histories of these countries. There is a long list of Marian devotions in Latin America; they are almost innumerable. Some titles of Our Lady represent a whole nation, with other titles for nearly every town, city, and region.
Read 20 Marian Devotions by Country in Latin America.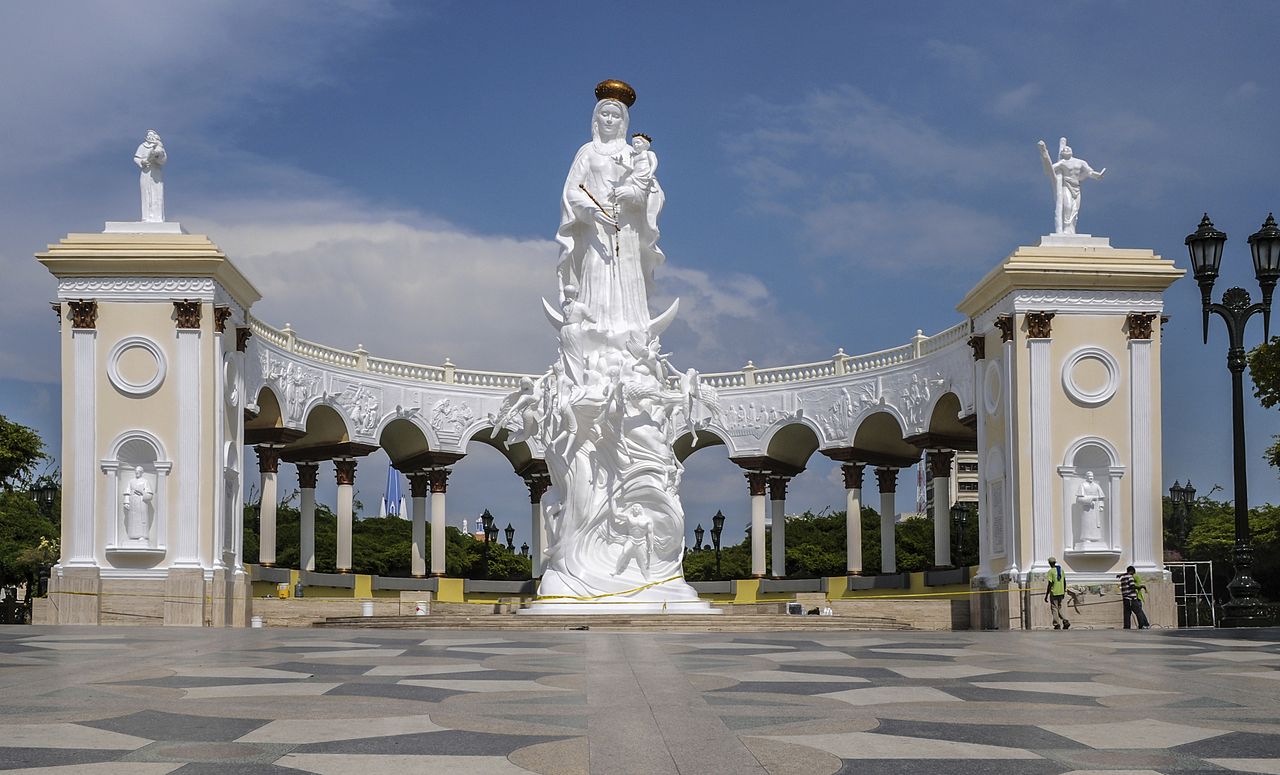 Monument of Our Lady of the Rosary of Chiquinquirá, in Maracaibo, Venezuela.
Out of all the many Marian devotions in Latin America, below are the top four most popular:
1. Our Lady of Guadalupe (Virgen de Guadalupe)
2. Our Lady of the Rosary (Virgen del Rosario)
3. Mary Help of Christians (Maria Auxiliadora)
4. Our Lady of Mount Carmel (Virgen del Carmen)
You may recognize that these particular devotions to Our Lady are popular in many places throughout the world, not just among those with a Hispanic heritage. It is interesting to see how Catholics are united around the world with the same aspiration: to be close to God, and to look for refuge in the Virgin Mary as our Mediatrix to her Son. When the feast day of one of these Marian devotions arrives, there is a big celebration!
HOW LATINOS CELEBRATE OUR LADY'S FEASTS
Virgin of Guadalupe: Patroness of Mexico & the Americas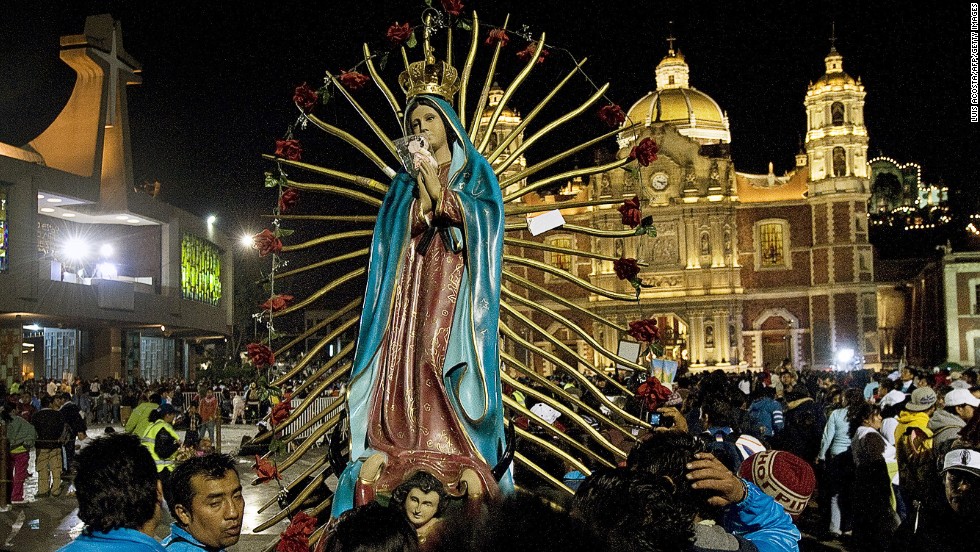 On her feast day, pilgrims gather early in the morning to carry an image of Our Lady of Guadalupe in procession outside the Basilica of Guadalupe in Mexico City. Image Source: LUIS ACOSTA/AFP/Getty Images.
The Virgin Mary, in her appearance to St. Juan Diego in 1531, is one of the most—if not the most—popular Marian devotion in Mexico.  This Marian devotion has spread from Mexico throughout America, and to the whole world. Her image has played an important role as a national symbol of Mexico, to the extent that many citizens proudly call themselves Guadalupanos.
All countries celebrate the feast day of Our Lady of Guadalupe on December 12.  It is a tradition that parishioners, with the help of a mariachi band, serenade and sing las mañanitas (Happy Birthday) to the Virgin at dawn. In Mexico, believers camp out at her Basilica the night before in order to bring flowers, light candles, and live the Marian spirit to the fullest.
Our Lady of the Rosary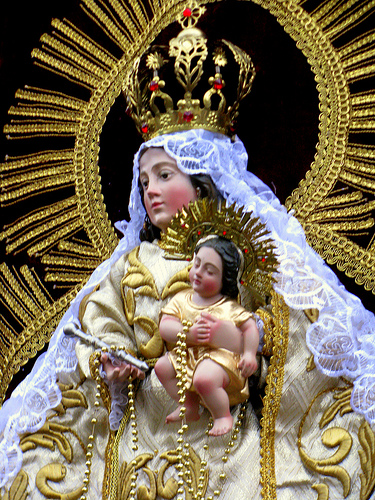 Our Lady of the Rosary in Guatemala
Our Lady of the Rosary reminds us the anniversary of the decisive victory of the Christian naval forces against the Muslims in the 1571 Battle of Lepanto. The Pope called for Catholics to pray the rosary to ask for Our Lady's intercession.
In Latin American countries, the devotion is related to the many mystical manifestations and miracles of the Virgin Mary in which she carried a rosary.
Even though the universal feast day is on October 7, Colombia celebrates her feast day on July 9 after a miracle occurred in the city of Chiquinquirá. Pope Pius VII declared her Patroness of Colombia in 1829 and gave her a proper liturgical feast. The Basilica in Colombia is highly visited by pilgrims from that country and abroad.
"La Chinita" as people call her with endearment in Venezuela, celebrates her feast day on November 18, however, the feast lasts several days. It is tradition that every last Saturday in October, Venezuela celebrates la Bajada (Spanish for "bringing down"), and it means the bringing of their patron saint from its normal place inside the chapel to be celebrated by the people.
Here is a video to illustrate you the way people celebrate the feast day of their patroness. This is in Maracaibo, Venezuela.
[embed]https://www.youtube.com/watch?v=KrwA7Ib8aJ4[/embed]
The town of Caraz in Perú celebrates her on January 20, and Argentina on September 25, under the name of Virgen del Rosario de San Nicolás.
Our Lady of the Rosary is the patroness of Guatemala and her feast day is celebrated on October 7.  It is the most popular and important religious event for the people and this nation. The whole month turns into an occasion of celebration, and of constant pilgrimages to the Shrine of Our Lady of the Rosary.
Mary Help of Christians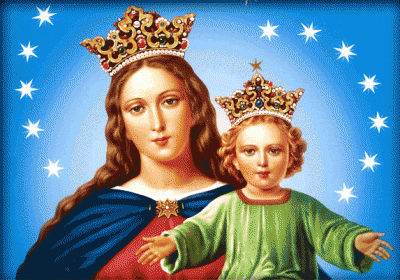 Mary Help of Christians, known as María Auxiliadora. Image source: Foros de la Virgen.
Mary Help of Christian is a Roman Catholic devotion with a feast day celebrated on May 24. Saint John Chrysostom was the first person to use this Marian title in year 345 as a devotion to the Virgin Mary, along with Saint John Bosco (Don Bosco), who also propagated the same Marian devotion under this title.
Basilica of Maria Auxiliadora, known as Iglesia Don Rúa, in El Salvador. Image by Camilo (cesar2mendez), on Flickr.
Salesians have done a great job spreading the devotion to Mary Help of Christians. In Latin America, you can find many schools and churches built in her honor, under the name of María Auxiliadora.
Our Lady of Mount Carmel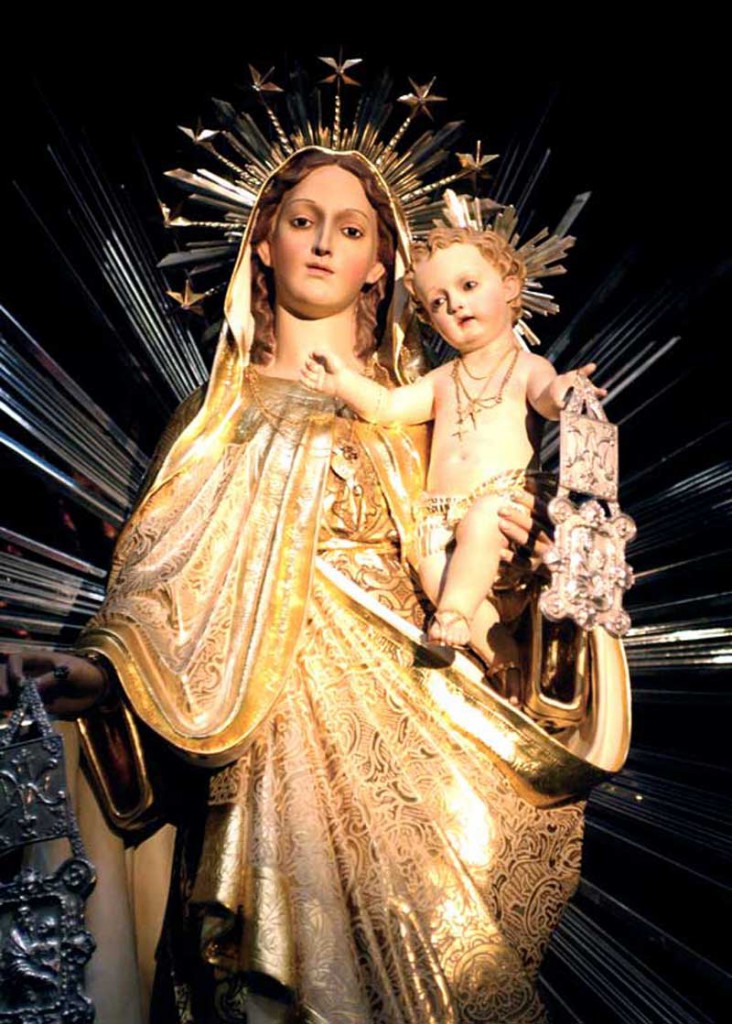 Statue of Our Lady of Mount Carmel. Image Source: lc.gov.mt
Since the 15th century, the popular devotion to Our Lady of Mount Carmel is centered on the Scapular of Our Lady of Mount Carmel also known as the Brown Scapular, a sacramental associated with promises of Mary's special aid for the salvation of the devoted wearer.
Our Lady of Mount Carmel is the title given to the Blessed Virgin Mary in her role as patroness of the Carmelite Order. She receives her name from Mount Carmel, a mountain located by the sea in the Holy Land (Israel), where she appeared in response to St. Simon Stock's humble supplication that she would be the protectress for the Order.
The devotion to la Virgen del Carmen is also popular throughout Europe and the Americas, where she is venerated as the patroness of the army, navy, sailors and fishermen. Many places carry her name. Also, it is a popular name for women throughout Latin America  - my grandmother included.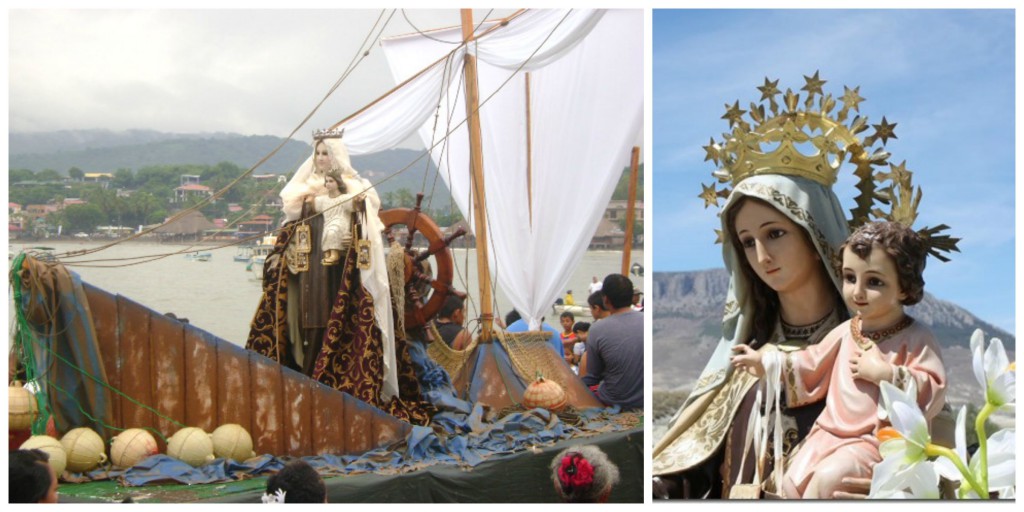 "La Virgen del Carmen, known as Estrella del Mar", is the Patroness of Fishermen in countries such as Nicaragua. Image Source by Javier de Santa Teresa OCD, on Flickr.
In Colombia, they celebrate Our Lady of Mt. Carmel as the patron saint of motorists, firefighters, armed forces and as the patroness of the Archdiocese of Villavicencio, among others.
Our Lady of Mount Carmel has been associated with Purgatory, where souls are purged of sins in the fires. In some cases, she is shown accompanied by angels and other souls wearing Brown Scapulars, who plead for her mediation to carry them to heaven.
The Virgin of Carmel freeing the souls of purgatory, a 17TH century painting.
Catholics Latinos practice their local Marian devotions celebrating the fiestas patronales (feast day celebration), in honor of the Virgin. They are also familiar with universal Marian devotions, such as Our Lady of in Lourdes, and Our Lady of Fatima. Universal or local, they show their devotion to the Virgin Mary, and the way they celebrate their patroness is admirable.
¡Viva la Virgen!
This article has been updated and was originally published in July 2015. © The Catholic Company. All rights reserved.
Comments