Christine LaPorte of Oceanside, CA (@celaporte) guest posted for us on our Instagram feed from World Youth Day in Kraków, Poland. She returned home  and shared more of her pilgrim experience through her journal entries below. Thank you, Christine!
Monday, July 25th
Today we arrived in Kraków via overnight bus from Assisi. The Catholic vibe here is palpable! CATHOLICS EVERYWHERE wearing matching parish t-shirts, colorful WYD backpacks, and having random dance parties with nuns. The streets are flooded with pilgrims chanting and waving their flags. Did the Polish people know it would be this crazy?! It is never quiet...in the best way possible! National pride is on display from each of 100+ countries represented, and at the same time, there is equal excitement for knowing that we all belong to one universal church. Never have I ever felt so at home with all "my people" around me. It's cool just to know that everyone is Catholic and "gets it." This makes me think of how we all have a deep desire to be known, chosen, and understood. I'm excited for this week and all the Catholic-awesomeness it will bring!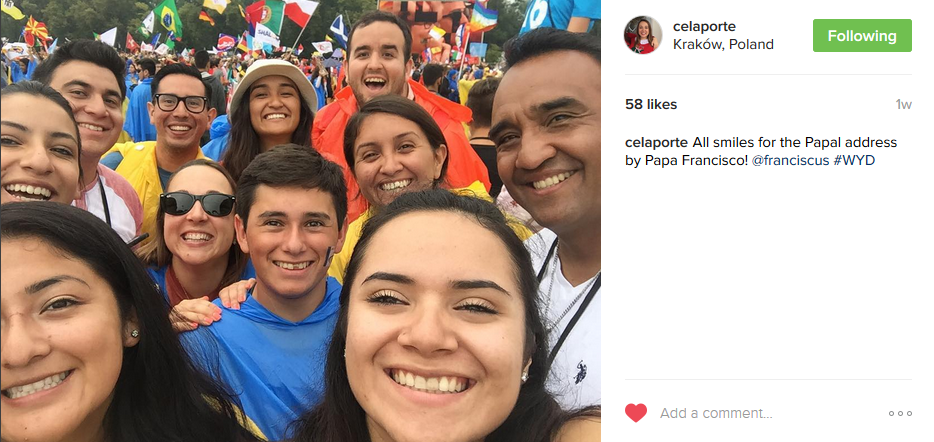 Tuesday, July 26th
"Remember where you are, don't forget why you are here. We are pilgrims for Jesus Christ."
This morning we made our Divine Mercy Pilgrimage prior to the WYD Opening Ceremony and Mass. I had no idea Poland was such a Catholic country. Prior to this trip my knowledge was limited to "home of Saint John Paul II" and "delicious perogies." That's about it. But Our Lady is so present everywhere! Her kind, loving eyes and warm, gentle embrace can be felt through endless imagery. My eyes are feasting at all the beauty! I am so at peace here.
The Divine Mercy Shrine was very powerful. St. Faustina was so brave. I have a special affinity for her now after visiting her relics. The St. John Paul II "Have No Fear" Shrine was amazing too too, especially the section dedicated to his assassination attempt where his cassock is on display. My jaw dropped at all the blood. "One hand pulled the trigger, and another guided the bullet. The strength of that bullet was very powerful. But the presences of Our Lady during that time of need and prayer was even greater."
It was so, so, SO COOL to celebrate Mass with over 2,000,000 Catholics. As we arrived to the outdoor arena, it was raining. Everyone was wearing their ponchos and huddled under the few umbrellas available. But as soon as Mass started, the rain stopped, the clouds parted, and the sun came out. God was truly present!
Wednesday, July 27th
TODAY = WOW!! We started our morning with catechesis and Mass with 20,000 English-speaking pilgrims. The US has so many amazing Catholic speakers! Namely, CHRIS STEPHANIK and JASON AND CRYSTALINA EVERT. They are game-changers of our faith. Conversion experiences happen because of how well they lead people to God.
Biggest takeaways from Chris: "Going to confession frees us from burdens we were never meant to carry." // "Daily Mass: for people who have nothing better to do...which is all of us! Because there's nothing better than the Eucharist!"
From Jason and Crystalina: "For every couple, marriage preparation begins at birth." // "The best way to start a relationship is with a season of friendship." // "What you win them with, you keep them with." // "Chastity isn't just for dating; it holds marriages together." // "Enjoy the season of singleness." // "Perfect yourself for your future spouse." // "Face your fears. You will only find yourself in the sincere gift of yourself." // "Keep the relationship pure. The more you love a person, the more invested you are in getting them to heaven."
In the evening I attended XLT: Worship/Message/Adoration by Life Teen and it was the best experience of my life. (Seriously!) It opened with the coolest, most fun Catholic concert ever! 20,000 young people singing so loud we all lost our voices. Worship was led by the awesome MATT MAHER AND AUDREY ASSAD. JOEL STEPANEK was the speaker for Life Teen, as well as BISHOP BARRON of Los Angeles.
From Joel: "Lord make me new; It's not over yet! I'm going to win your heart." // "Our world is filled with war and conflict because there is war and conflict within. Healing the world is possible but it has to begin in your own heart."
From Bishop Barron: "Sin is not a single, solitary act. It is a state we find ourselves in, and we get stuck from time to time." // "Forgiveness is hard work; we must enter in knowing it will be uncomfortable." // "Our faith is not simply for our private consumption. We are made to invade the world and transform it from the inside."
AND THEN CAME ADORATION. It was my most intimate encounter with Christ to date. The monstrance was placed in front of the image of Divine Mercy and it was the most beautiful sight. I kept repeating "Jesus, I trust in you." And then I heard Him say to me, "Christine, I trust in you." That was a big moment for me because so often I feel like I'm letting Him down, and now I know that I'm not. I feel so free!

Thursday, July 28th
I SAW THE POPE THIS MORNING! In our half-second, up-close encounter, he moved me to tears. I am so blessed to be here. Following catechesis and Mass, we heard two AMAZING talks—one by SCOTT AND ANNA POWELL on Marriage and Mission and the other by JASON EVRET on The 5 Loves of John Paul the Great. Here's what I learned:
From Marriage and Mission: "Surrender your love story to God and let Him write it for you." // "We are created from relationship, and for relationship." // "Who in my life are the relationships that bring me closer to God?"
From The 5 Loves of John Paul the Great: 1. Love of Young People: Do not believe you deserve anything less than the highest standards. // 2. Love of Human Relationships: This is my body's desire, given up for you. // 3. Love of the Eucharistic: Live the Mass // 4. Love of Mary and All Mothers: The Rosary is my daily meeting with Mary. She is always waiting for me. It is necessary to understand the soul of the the woman. // 5. Love of the Cross: Suffering grows faith.
During his Papal welcoming ceremony this evening, Pope Francis said, "To find fulfilment, to gain new life, there is a way, a way that is not for sale, that cannot be purchased, a way that is not a thing or an object, but a person. His name is Jesus Christ." AMEN!
Friday, July 29th
I'm learning that this pilgrimage is so much more than catechetical talks. It is also very much about relationships. One of my prayer intentions coming in was to meet and develop new Catholic friendships. That is for sure happening! There are so many cool and interesting Catholics on this trip. Because I went with a group from a different parish, I didn't really know anyone. Now that we've been sharing such a transformative experience together, I'm getting to know everyone better and the conversations we're having are really helping me to grow in my faith. Like today for example, when a Sister of Divine Mercy gave a talk on the cross, I was sitting next to one of the adult chaperones. Seeing him love the talk as much as I did and talking to him about it afterwards was so rewarding. Then, a few of the teens and I went to a talk on the biology of Theology of the Body and it was so interesting!! We were completely enthralled at the speaker's knowledge (Vicky Thorn) and her fluidity in disseminating the information. It was just in reach enough for us to understand it and keep wanting to learn more and more! Seriously so cool. We were talking about it for hours afterwards. There is so much processing necessary to grasp everything we're learning. One thing I know for sure—it is in these moments shared with my new Catholic friends that I know the Holy Spirit is at work.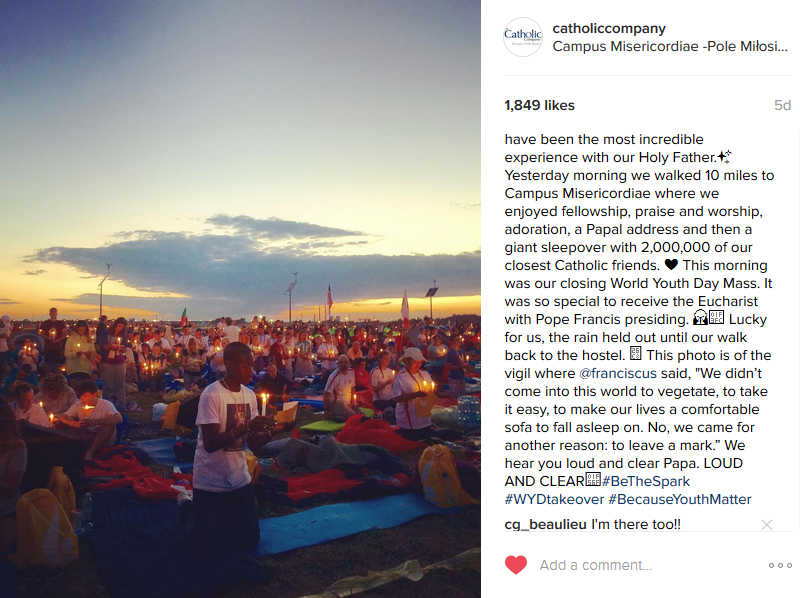 Saturday, July 30th & Sunday, July 31st
I came to WYD for this, the pilgrim walk to meet Pope Francis at Campus Misericordiae. Our hostel was 10 miles away, so that means I walked 20 miles roundtrip...rain and shine, wearing a full backpack too! I prayed the rosary several times on the journey, offering up any minor sufferings as a thank you to Jesus for dying for us on the cross. This pilgrim walk really helped me to understand in a tangible way what He went through for us. It was truly incredible and I'm happy I had the opportunity to thank Him in this very small way.
Campus Misericordiae was such a lively place! It was like having a gigantic outdoor sleepover with 2,000,000 of my closest Catholic friends. Sleeping bags lined up one after another for as far as the eye can see and music playing until all hours of the night. Waking at dawn when most people are still sleeping and spending some quiet time with God. All of us were there for the same reason, to attend a vigil and celebrate Holy Mass with our Holy Father. Pope Francis is such a lovely man. So sweet, kind, sincere, and of course, a beacon of hope and light. I am immediately calmed when he begins to speak. What stuck with me the most was when Papa Francisco said, "Dear young friends, don't be ashamed to bring everything to the Lord in confession, especially your weaknesses, your struggles and your sins. He will surprise you with his forgiveness and his peace. Don't be afraid to say "yes" to him with all your heart, to respond generously and to follow him! Don't let your soul grow numb, but aim for the goal of a beautiful love which also demands sacrifice. Say a firm "no" to the narcotic of success at any cost and the sedative of worrying only about yourself and your own comfort." When he said that, I felt like he was speaking directly to me.