Studies show that each year over 1.2 million students drop out of high school. And high school graduates make on average $200,000 more in their lifetime than their non-graduate brethren (college graduates make on average $800,000 more than high school dropouts). Clearly high school graduation is still important and not guaranteed by any means. Graduation from high school means that your child or loved one will be entering into a new world whether it's the work force, community college, a four-year college, or mission work. Giving your graduate the right graduation gift will prepare them for the road ahead and the new chapter in their life. Catholic graduation gifts remind your child of their life in Christ, and will help your child make Christ a part of life going forward. Here is a list of some of the most popular catholic graduation gifts.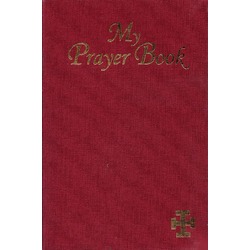 My Prayer Book
My Prayer book is one of the most popular catholic graduation gifts. This prayer book comes with beautiful artistic illustrations, genuine leather cover, and the most popular and important catholic prayers. Your graduate will most certainly need prayer to be a part of their new life outside of high school as they are certain to face many trials and tribulations. My Prayer Book can also be personalized which will make the book even more beautiful and special to your child.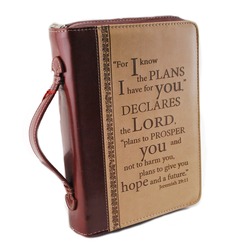 Leather Bible Cover
This Leather Bible Cover is one of popular bible covers among Christians. This bible cover comes imprinted with Jeremiah 29:11 "For I know the plans I have for you, declares the Lord, plans to prosper you and not to harm you, plans to give you a hope and a future." This verse will remind your graduate that God has plans for them greater than they could ever make or imagine. This beautiful and durable bible cover provides encouragement to your child and will hopefully protect their bible for years to come. These bible covers can be personalized as well with your child's name or graduation date.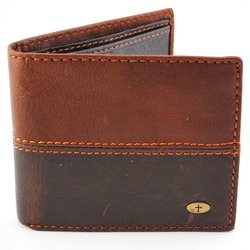 Leather Wallet
This Genuine Leather Wallet comes with a small cross emblem and can be personalized. This wallet is built to last and will hopefully remind your graduate to be prudential in their spending. This leather wallet could be the perfect catholic graduation gift for your son or loved one.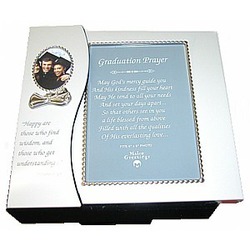 Graduation photo album
This graduation photo album makes a great catholic graduation gift. The photo album can hold 48 4"x6" pictures and comes with a graduation prayer on the cover. This photo album can also stand up so that the photos can be easily displayed.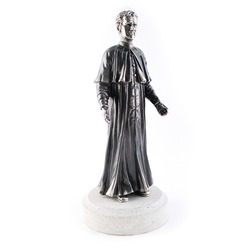 Saint John Bosco Statue
Saint John Bosco is one of the patron saints of students and this statue of him is handcrafted and unique. This statue is made out of a very sturdy marble powder and metalized copper. This St. John Bosco statue will remind your graduate to ask for the intercession of Saint John Bosco so that they may receive many graces from the Lord. This St. John Bosco statue is a great catholic graduation gift.
These are just a few of the top catholic graduation gift ideas for your loved one. A catholic graduation gift will offer your graduate encouragement in the future and remind them of their relationship and love for Christ Jesus. What are some of your favorite graduation gifts you've received or have given to others?