I have lots of memories of Christmases from my youth. I vividly remember making delicious holiday meals, singing in the children's choir at mass, and excitedly buying presents for my siblings and parents, among many other things.
But I don't remember too much about Advent growing up, except for lighting the Advent wreath every night and giggling at Mass if Father wore pink (rose, really) vestments on Gaudete Sunday.
It wasn't until high school that I started living Advent more intentionally. It helped me tremendously to build habits of virtue during Advent that were concrete, consistent, and, at times, challenging.
Living Advent well transformed the way I lived Christmas and motivated me to start the liturgical and calendar year more alive and active in my faith.
Read more: How Advent Teaches Us to Wait for the Coming of Jesus
If I had begun this type of practice from childhood, I can't even imagine how much grace and growth I could have added to my spiritual life and my practical daily living during those crazy weeks of December every year.
Fortunately for you and your children, you can have what I look at and wish I'd had as a kid!
How to Make Advent Unforgettable For Your Kids This Year
I am very excited to share with you a brand-new product for Advent, designed by and available exclusively at The Catholic Company: the Advent Card Set for Kids!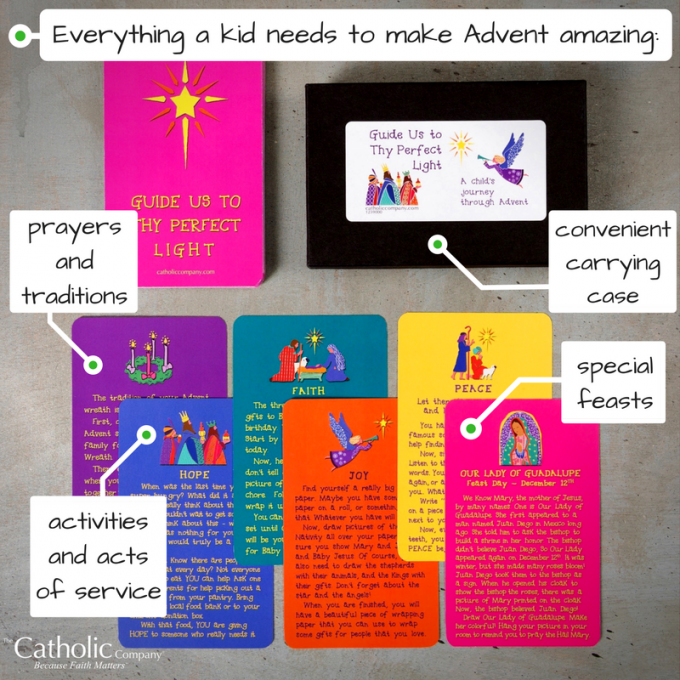 This dynamic Advent activity set includes a boxed series of colorful cards designed to introduce children to the traditions, prayers, and feasts surrounding the Advent season, as well as to give them concrete ideas for how to prepare for the birth of Christ through prayer and service.
I was fortunate enough to be able to proofread the cards as they were being designed, and I remember being struck by how simple and yet profound the cards were! Even though the language is easy enough for children to understand, these activities will stretch their hearts and help them grow in a very real way. Here is an excerpt from one activity for the second week of Advent, which focuses on increasing and reflecting on faith:
"No complaining today! Remember that Jesus began his life in a cold stable…He did this because He loves you! If you start feeling like complaining today, just stop for a minute. Ask Jesus for a little help. If you do this, you will find it much easier to forget about complaining. Asking Jesus for help is an act of FAITH!"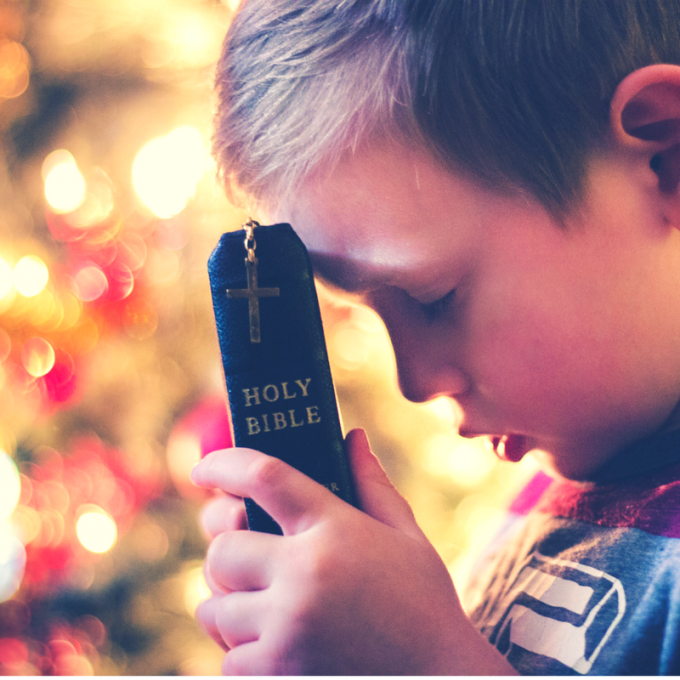 How beautiful! What a simple and yet life-changing way to uncover the opportunities Advent gives us to meditate on and imitate Christ.
This incredible set not only shows children the beauty of Advent and a Christ-centered Christmas, but it will also open their eyes to the needs of the people around them, especially those they encounter on a daily basis. Some of the cards focus on praying for or serving family members, teachers, and servicemen.
Here are excerpts from two such cards:
"Make a paper chain with 24 links…Each night, before you go to bed, ask Jesus to watch over someone you know. Maybe it's your Mom or Dad. It could be a friend at school or someone who is sick…After you pray for that person, tear off a chain link. Each of your prayers gives HOPE to someone in your life.
Delivering mail is probably a little more difficult that you might think – especially in December! The weather can be very cold, and there is tons of extra mail…The mail delivery people get tired! You can bring them a little bit of joy…Leave a candy cane and a "thank you" drawing in your mail box for them…"
A final benefit of this dynamic card set is that this journey your children will take won't just affect them. Some of the cards involve parents helping a child with a project. Perhaps you'll need to read the cards to younger children. You might even find that you've become the recipient of a heartwarming prayer or secret act of service from one of your kids.
Whatever the case may be, the whole family will share in the fruits of the journey, and you will create truly meaningful memories that you and your children will cherish for many, many years.
Purchase our new Advent Card Set for Kids today!
Read more: 4 Popular Advent Activities for Kids
And: Making Small Sacrifices for the Baby Jesus