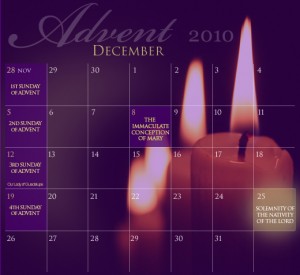 This Advent season is sure to be one of the busiest in recent years largely due to the implementation of the New Mass translation in the United States. This is sure to add more stress to a time already busied by Christmas shopping and coordinating family get-togethers. Despite these distractions, many great pastors and spiritual guides will continue to remind us that Advent is a time of spiritual preparation as we strive to ready our souls for the coming of Christ. I fear that it might be easy to disregard the other important call of all parents to prepare their children and family as well for the Advent season.
Advent is an important season in which families can come together and prepare for the coming of Christ in a powerful way. During the Advent Season it is important that families pray together and use the traditional tools which have benefitted families for years. These tools include things like Advent Wreaths. Advent Wreaths encourage families to have meals and prayer together like Jesus and his apostles thousands of years ago. Furthermore, Advent Calendars are another great tool which educate children and bring them to reflection on Christ and the Good News of the Gospel. I invite you to learn more about these tools and consider using them with your family this Advent Season and many such seasons to come. Remember that Advent with the Family is a beautiful and important way to celebrate Advent
It is very important that you make your family a part of this Advent Season as you grow together. This Advent Season, like many of the past, will be filled with distractions and priorities which attempt to take away from our goal to prepare ourselves and our families spiritually during this crucial season. I hope that you will use these traditional tools with your family and that God will use them to benefit your family with grace and love.