Have you always wanted to participate in a Lenten retreat, but don't have the time or money to spend a whole weekend away from home? Sometimes just managing to attend a one-day retreat can be difficult!
Doors of Mercy: Exploring God's Covenant With You is a wonderful option for an at-home Lenten retreat, that can be done at your own pace. While this 8-week Catholic Bible study can be done as a parish or small group, it is also perfect for home study either alone or with family members. In fact, if it is begun sometime during the first week of Lent, it will easily coincide with an end-date near Divine Mercy Sunday (the weekend after Easter).
PARTICIPATING IN THE YEAR OF MERCY
On December 8, 2015, Pope Francis opened the Extraordinary Jubilee Year of Mercy. As Catholics, we are invited to participate in God's outpouring of mercy and the special indulgences, promises, and graces that are attached to this Jubilee Year. The Doors of Mercy series is a great study companion to the Year of Mercy. If you can't complete the series during Lent, try starting it up over the summer, or even plan it as a Fall Bible study to finish out the Year of Mercy.
Read Everything You Need to Know about the Holy Year of Mercy
"Once we look at the story of salvation through the eyes of mercy, we can see that they are one and the same. Creation, sin, and redemption have been at the heart of the story of salvation since Adam and Eve, " says series producer and publisher Conor Gallagher. "The beauty of Doors of Mercy is this revelation . . . that everything begins and ends with God's mercy."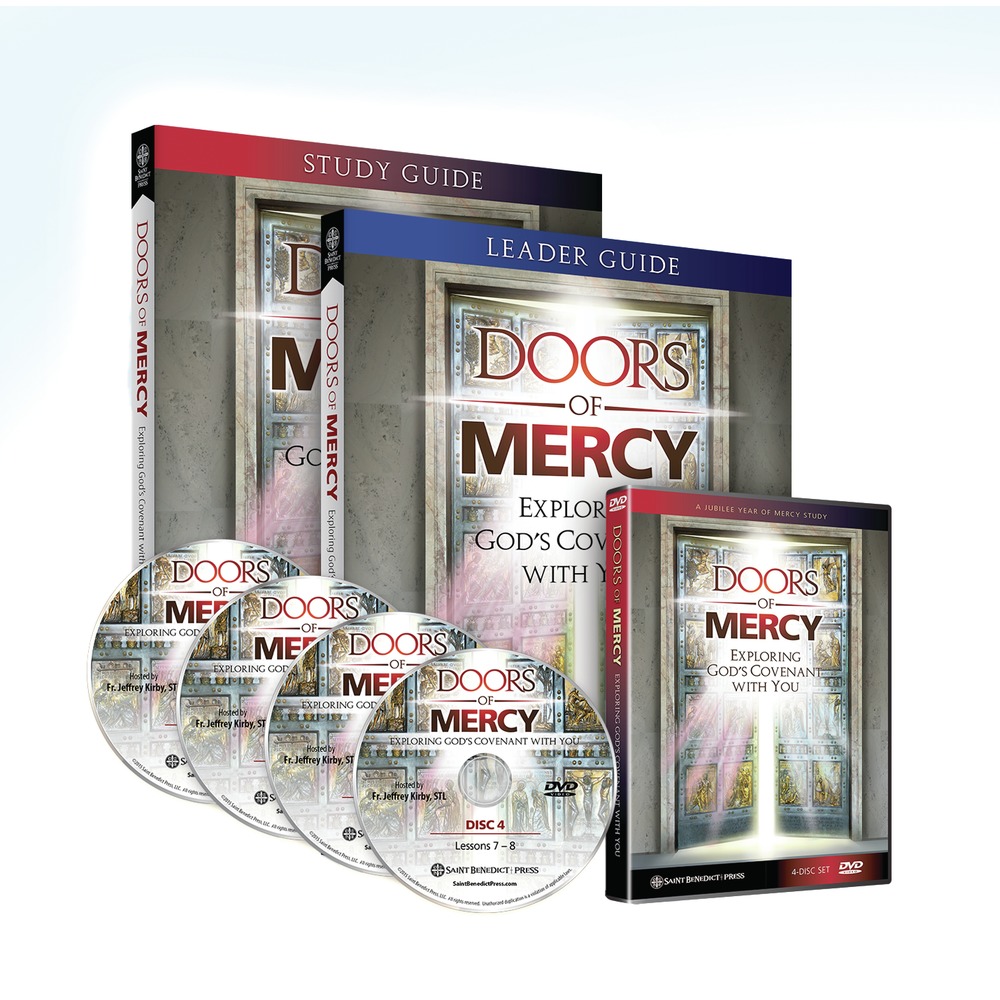 ABOUT THIS NEW BIBLE STUDY SERIES
Father Jeffrey Kirby, a priest of the diocese of Charleston, South Carolina, leads the Doors of Mercy study. He taps into the various covenants God has made with us throughout the history of salvation, from Adam to Noah to Abraham to Moses to King David, and even to the present day. Father Kirby is a regularly sought-out retreat leader, spiritual director, and confessor, and is known for his knowledge and love of Divine Mercy.
Another important piece of the Doors of Mercy study is the "Life Application Video," which is presented after each of Father's lessons. During this video, various well-known Catholic personalities share insights and reflections in their answers to profound questions asked in the study lesson. All of these presenters (Paul Thigpen, Joseph Pearce, Rose Sweet, Father Chris Alar, and Mary-Rose Verret) bring their own backgrounds, stories, and struggles into the discussion. Some of these struggles include divorce, conversion, and forgiveness, but all of them have one thing in common: God's mercy. Hearing from these "everyday Catholics" and reflecting on the prophets and figures in Scripture, we come to understand how God forgives the sins of humanity time and time again.
The Doors of Mercy study comes with 4 DVDs and a study guide. Each session is structured in an easy-to-follow method:
Lesson Introduction
Lesson Readings
Prayer
Video Lesson
Study Guide Questions (discussed in a group or meditated on at home)
Life Application Video
How Then Shall We Live/Living It Out
Doors of Mercy is a wonderful way to delve into God's tremendous mercy, which is, especially in this Jubilee Year, "never elusive and always available."