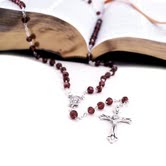 The February birthstone is the purple-hued Amethyst. Amethyst gets its name from the Greek word "amethystos" which means "remedy against drunkenness."
The Ancient Greeks firmly believed that the amethyst promoted sobriety and temperance. They were so sure of the amethyst's power that they included it on many of their goblets to protect against overindulgence. It modern times, amethyst has been thought to bring stability and clarity for those struggling with addiction.
Amethyst became honored as the February birthstone due to its rarity, supposed prudential influence, and popularity.
One traditional February birthstone poem reads:
"The February born shall find
Sincerity and peace of mind,
Freedom from passion and from care,
If they, the amethyst they wear."
In religious realms, amethyst has been used in bishops' rings and priests' rosaries for centuries. Purple has always been a color of soberness and penance (hence why the priest wears purple in Lent and Advent) and the royal, kingly office of Christ and secondarily his "alter Christus," the priest.
Birthstone rosaries include more of a personal touch than most other rosaries, and are a constant reminder of the person's God-given gift of life. One might even use a February Birthstone rosary with the intention of praying for those struggling with addiction in their life.
If you would like to learn more about birthstone rosaries, see the Birthstone Rosaries Guidewhich delves deeper into the beauty of both the rosary and birthstones.
This article has been updated and was originally published in February 2012. © The Catholic Company. All rights reserved.