We probably all know at least one person who has fallen away from the Catholic faith, whether it be after a tragic event, a pulling away from family and tradition, or after having doubts about the Faith that have grown over many years.
Our hearts ache to see this, because the very strength these people need to overcome their difficulties can come through the graces received in the sacraments!
Looking at these situations, it's easy to feel helpless. Many times we think despondently that all we can do is pray…
However this can result from a narrow understanding of what prayer looks like, particularly when it comes to prayers for healing and conversion.
While the rosary, the Memorare, and other prayers are wonderfully powerful ways to intercede for others, Our Blessed Mother decided, in 1840, to help us get a little more creative in regards to how we pray for healing and spiritual conversion for the people in our lives.
Many people know, love, and live the devotion of the Brown Scapular as a way of praying and serving more intentionally. But not many people know about the Green Scapular, which has quickly become known for miracles related to spiritual conversion, as well as healings from physical and mental illness. (In this context, conversion generally refers to non-believers accepting the truths of the Catholic faith, or the return of those who have fallen away from the Faith).
Below is a brief account of this devotional's story and message.
A Memorable Celebration on Mary's Birthday
On September 8, 1840, the feast of the Nativity of Mary, Our Lady appeared to Sister Justine Bisqueyburo, a Daughter of Charity in France. In her right hand Mary held her Immaculate Heart surrounded by flames, and in her left hand she held a green scapular. According to the Society of the Green Scapular:
"The scapular consisted of a simple piece of green cloth, rectangular in shape, hanging from a green string. On one side was an image of Our Lady dressed in a long white gown which reached to her bare feet…On the other side of the scapular was pictured her Immaculate Heart, all ablaze and transparent as crystal, with rays pouring out that appeared more dazzling than the sun.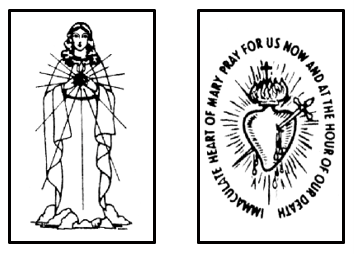 Image from the Society of the Green Scapular
This Heart, pierced with a sword, was encircled by an inscription in the form of an oval and topped by a golden Cross. The inscription read:
Immaculate Heart of Mary, pray for us, now and at the hour of our death.
At the same time an interior voice revealed to Sister Justine that God desired to establish among mankind a more tender and confident appreciation and love of His Most Beloved Mother by means of devotion to her through the title of her Immaculate Heart. When invoked under this title and through this holy image Our Lady would obtain great favors from her Divine Son—especially in the areas of physical health, peace of mind and spiritual conversion.
She, who is the Refuge of Sinners, would especially obtain the conversion of those who had fallen away from the True Faith, or who had never possessed it."
Unanswered Questions
While Our Lady urged that the scapular be made and distributed as soon as possible, there were many delays. One was the fact that Our Lady had not answered many questions about the use of the scapular:
What circumstances were necessary to make the scapular effective?
Was there a special blessing or ceremony for enrolling persons in its use?
Were there any obligations for those who used it?
Was the scapular for use only by certain groups of people or in certain situations?
The Green Scapular Devotion and Uses
Exactly six years later, Mary appeared again, and Sr. Justine asked her these important questions. Our Lady's reply was surprisingly simple and rather intriguing:
"This scapular is not like others [it is not based on a religious habit] but merely two holy images on a single piece of material. Therefore, no special formula is required to bless it or enroll someone in its use. It suffices that it be blessed by a Catholic priest and worn by the one whom we desire to benefit by Our Lady's intercession. If, on the other hand, the person is unable, or even unwilling, to wear it or carry it, it may even be slipped, unknown to them, into their clothes, possessions, home or work environments, etc."
[[45214, 11433]]
While devotions like the Brown Scapular have a good list of requirements for efficacious use, there is only one prayer that accompanies the Green Scapular—the petition on the back of it: "Immaculate Heart of Mary, pray for us now and at the hour of our death. Amen."
Read more: Our Lady of Mt. Carmel's Brown Scapular: What You Need to Know
Our Lady urged those who use the scapular to pray this prayer daily, if not more frequently. If the person for whom the scapular is intended does not say the prayer (such as in the case of slipping one into a friend or family member's home or office without their knowledge) then the giver may recite it on their behalf.
One of the most important things to remember about this devotion can be seen in a particular detail in the image of Mary's Immaculate Heart. The rays that burst from it possess varying lengths and levels of brightness, and this illustrates the fact that the greatness of the graces received will depend on the intercessor's degree of confidence in Our Lady.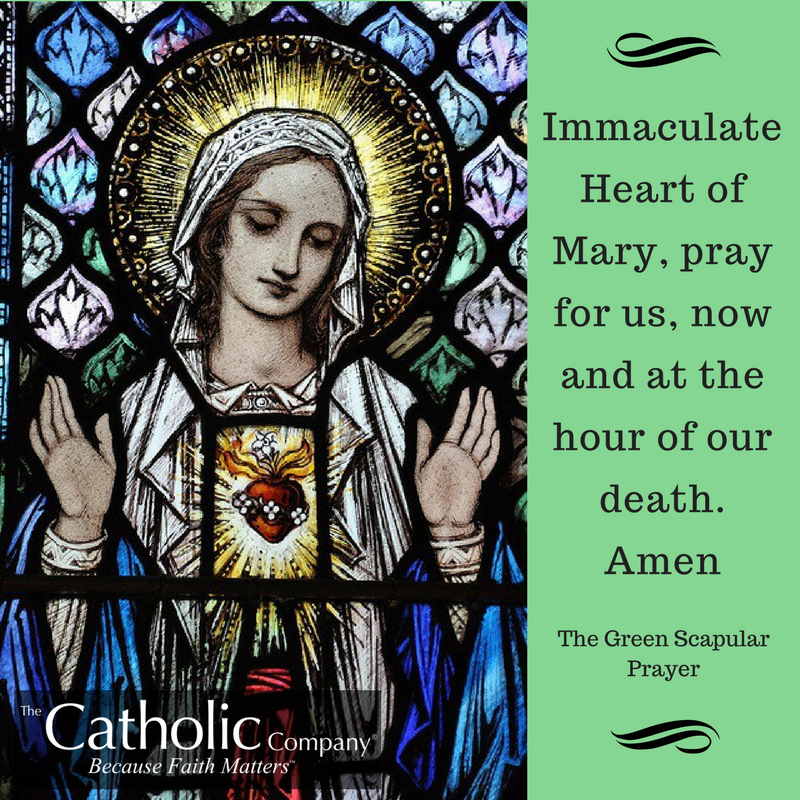 An Avalanche of Miracles
Favors obtained using this scapular have been incredible. The Green Scapular has its own society today because of an overflow of miracles that occurred during a particular six-month period.
Some of the most common types of miracles associated with the Green Scapular include: healings of people on the brink of death or suicide, sudden wisdom and understanding in the midst of dangerous relationships or behaviors, and, most importantly, quiet or drastic changes of heart which lead people to (or back to) the Catholic Church.
For more in-depth stories detailing specific graces received and incredible conversions undergone after using the Green Scapular, click here. (Scroll down to Part 3: Favors Received)
Perhaps, out of all the hearts in the world, a loving mother's heart feels loss, distress, and separation the most deeply. Therefore, it seems appropriate that Mary would urge us to invoke her for these causes under the title of her tender, motherly Immaculate Heart, which bore so much sorrow and anguish during her lifetime.
Wait, So Who Should Use This Again?
According to the outline given by the Green Scapular Society, Our Lady stated that the scapular should be "worn by the one whom we desire to benefit by Our Lady's intercession", particularly in regards to conversion or healing.
That being said, many people choose to buy the scapular to openly or covertly give to friends and family. However, if you yourself are in need of healing physical or emotional healing, or are struggling with a doubt or trial that has keep you from fully embracing an aspect of the Catholic faith, then you can certainly wear the scapular yourself and ask for Our Lady's intercession in that area.
In any case, let us run to our Dear Mother and rest under her heart's healing rays.
If you would like to purchase the Green Scapular, you can click here.
Continue reading What You Should Know About the Immaculate Heart of Mary