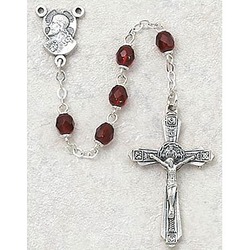 The January birthstone is the stunning garnet stone. Garnet is typically a deep red stone and gets its name from the Latin word "granatus" meaning "grain" or "seed." The garnet got this name because of its uncanny resemblance to the pomegranate seed. One can find garnet throughout most of the world, and it has been harvested for over 2,500 years. Therefore, many ancient legends and stories include the garnet.
According to pious legend, the garnet was hung on Noah's Ark to light the way through the dark and stormy nights of the flood.
In regards to secular traditions, garnet was used during the Middle Ages to try to cure diseases in the West such as the plague or Black Death. The garnet was also said to change color if their wearer was in danger, and therefore became a prized jewel of the wealthy in Western history.
As one can see, many legends, myths, and powers have been attributed to the unique garnet stone. Looking at both the religious and secular legends surrounding garnet, themes of hope, healing, and new life appear: a touching reminder for a January-born friend or family member.
Birthstone rosaries include more of a personal touch than most other rosaries, and are a constant reminder of the person's God-given gift of life. The January birthstone rosary will bring one to prayer through its elegant beauty and its unique connection to the owner's birthday. If you would like to learn more about rosaries, please see the Birthstone Rosary Guide.
This article has been updated and was originally published in January 2012. © The Catholic Company. All rights reserved.