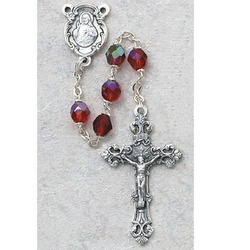 The ruby, one of the most elegant and famous gems, is the July birthstone.
Ruby typically comes in hues of red and has been honored throughout history. Wearing a ruby has been thought to be a powerful protection for its rightful owner, as it was anciently said to glow darker in the presence of threatening evil.
Rubies have also been crushed up in an attempt to heal such sicknesses as indigestion.
The ruby is mentioned in the Bible several times as a gem of great worth. The book of Proverbs compares the value of rubies to that of the gift of wisdom, and also presents the argument that the value of a virtuous woman is far greater than that of this precious red jewel.
Presenting your loved one with a July birthstone in a stunning rosary will make a thoughtful and memorable gift. The rosary is one of the most well known and powerful Catholic devotions, and makes a stunning gift to anyone whom wishes to fall more in love with Christ and with Mary, their spiritual Mother.
A July birthstone rosary is both beautiful through its adornment with rubies and as a tool of encouragement and contemplation for your loved one in his or her prayer life. If you would like to learn more about rosaries, birthstones, and birthstone rosaries please read our Birthstone Rosaries Guide.
This article has been updated and was originally published in July 2012. © The Catholic Company. All rights reserved.