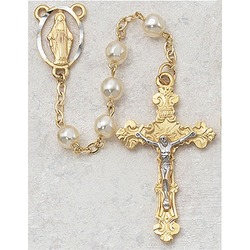 The June birthstone is the beloved pearl: one of the most precious stones, and very rare naturally! Throughout history the origin of the pearl has been speculated by numerous cultures. For example, the Ancient Chinese speculated that the pearl came from the brains of dragons while the Ancient Greeks believed that pearls were the hardened tears of the goddess of love.
As we now know, pearls are actually formed in an oyster or mollusk when a foreign irritant lodges itself into them. Once lodged inside the mollusk or oyster will cover the substance in "nacre" and over many, many years the pearl will form. This process typically takes the entire life of the mollusk or oyster which therefore makes natural pearls very rare. Pearls are traditionally said to help people grow in chastity, purity, and loyalty.
Along this same line of tradition, popular June birthstone poem proclaims:
"Who comes with summer to this earth
And owes to June her hour of birth
A pearl should wear against her skin
Who's innocence many a heart shall win."
In the Christian Gospels, the pearl has its own parable: Jesus compares the Kingdom of God to a beautiful "pearl of great price." He tells the crowds that this pearl is worthy of us selling everything for. A moving reminder for us all!
The June Birthstone has been used in jewelry for centuries and is still used in decorative wear today. This beautiful stone also makes a great addition to a fine rosary.
Birthstone rosaries include more of a personal touch than most other rosaries, and serve as a constant reminder of the person's God-given gift of life. A June birthstone rosary combines the spiritual beauty of the rosary with the pure radiance of pearls. Your loved one born in June will treasure the gift of a stunning, unique June birthstone rosary. If you would like to learn more about birthstones or rosaries you can read the Birthstone Rosaries Guide.
This article has been updated and was originally published in May 2012. © The Catholic Company. All rights reserved.