There are patron saints for almost everything we can think of: lost items, cooking, school, lawyers, travel, politicians, brides, countries, and countless illnesses. The list is endless. Yet for those who suffer from mental illness, finding spiritual help seems more difficult.
As one blogger put it, "[when] mental illness crept into my life, I slowly stopped turning to the saints for help. After all, which of these holy people would suffer from weaknesses like mine? Thoughts like this pushed me farther away from not only the saints, but God as well."
Unfortunately, "mental illness" is often a misunderstood term that carries with it a heavy weight. Many people believe mental illnesses are rare and only happen to "other people." However, according to the World Health Organization, over 450 million people struggle with mental disorders.
Far from being rare, mental illness is pervasive and affects many families today. "Mental illness" is defined as a disease that causes mild to severe disturbances in thought and/or behavior, resulting in an inability to cope with life's ordinary demands and routines. There are more than 200 classified forms of mental illness, varying from certain anxieties or mild depression to bipolar disorder to schizophrenia.
Mental illness can be extremely trying for those who are affected by it, or who must encounter it on a daily basis. Depression, for instance, can make the simple act of getting out of bed overwhelming. Although there are considerable ways to approach treatment, from medication to "talk therapy," there is also a spiritual component that should not be overlooked.
Saint Pope John Paul II said, "Whoever suffers from mental illness 'always' bears God's image and likeness in himself, as does every human being. In addition, he 'always' has the inalienable right not only to be considered as an image of God and therefore as a person, but also to be treated as such."
Strides have been made in the acceptance of mental illness as a disease, and the stigma that used to be associated with mental or emotional disorders has shrunk considerably; yet those who struggle with any of the various kinds of mental illness are often still hesitant to discuss their struggles.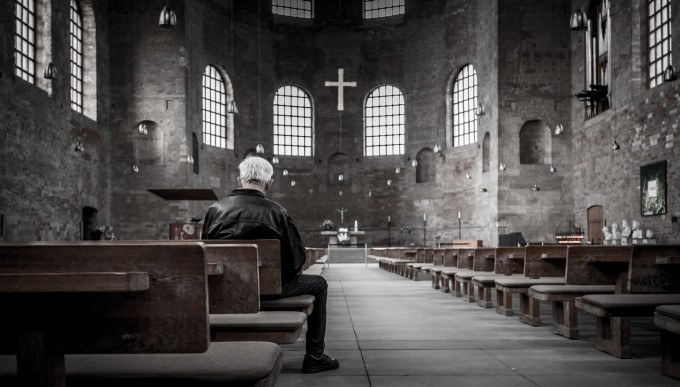 Turning to the saints can be a significant help for those in search of consolation and encouragement. Especially when we realize that some of them dealt with emotional and mental disturbances themselves, turning to these special patrons can bring us hope in knowing that they suffered in a similar way.
There are several saints who have been presented as Patrons of Mental Illness by the Church, and who are invoked on behalf of those suffering from mental illness in minor or major ways.
The following are some stories of these saints and intercessory prayers that may offer help and hope to those who suffer from mental or emotional problems (and their loved ones):
Saint Dymphna:
Patroness of those who suffer with mental and nervous disorders. Saint Dymphna has become increasingly popular in recent years as someone to turn to when experiencing worry, fear, and anxiety. Saint Dymphna can be invoked for help with a range of mental issues, from daily stress to the more serious anxiety disorders.
Her Story: Saint Dymphna was born in the 7th century to a royal family in Ireland. Her mother was a devout Catholic, but her father Damon was not religious. The upbringing and care from her mother instilled a deep faith in Dymphna.
However, her mother died when Dymphna was around fourteen years old. In his grief, Damon suffered from severe mental illness to the point of near insanity. He decided to marry Dymphna to replace his wife, but the girl fled to Belgium with two family servants and a priest, Saint Gerebernus. Unfortunately, Damon tracked down his daughter. After killing the priest, the soldiers were ordered to cut off Dymphna's head if she refused to marry her father.
Remaining true to her faith, the teenager refused to comply. Damon's response was to kill his daughter by his own hand. Dymphna is the patron saint for mental illness as well as therapists, incest victims, and the loss of parents (more on Saint Dymphna).
Feast day: May 15
Prayer to St. Dymphna:
Good Saint Dymphna, great wonder-worker in every affliction of mind and body, I humbly implore your powerful intercession with Jesus through Mary, the Health of the Sick, in my present need. (Mention it.) Saint Dymphna, martyr of purity, patroness of those who suffer with nervous and mental afflictions, beloved child of Jesus and Mary, pray to Them for me and obtain my request.
(Pray one Our Father, one Hail Mary and one Glory Be.)
Saint Dymphna, Virgin and Martyr, pray for us.
Saint Benedict Joseph Labre: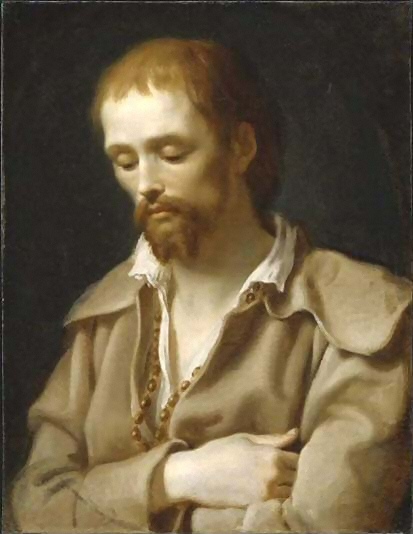 Saint Benedict Joseph Labre
Patron of those suffering from mental illness. Many have said that holiness has a bit of madness in the eyes of the world. This would certainly have been said of Benedict Joseph Labre during his life. He lived for many years as one cast out. Although he tried three times to enter various monasteries, the monks felt that he did not have a vocation. They were kind to him, but concerned about his lack of stability and propensity to wander. Benedict continued to persevere in seeking holiness. Considered eccentric, he spent most of his life somewhat removed from the world, living as a constant pilgrim and traveler. Many who suffer mental or emotional disorders feel unable to connect with the world and the people they come in contact with. For this reason, Saint Benedict Joseph Labre is a perfect saint for those who suffer from "illnesses of the human mind."
His story: Read EWTN's in-depth biography. (It's worth reading the whole story to get a true understanding of his profound life.)
For more on Saint Benedict Joseph Labre, visit the Guild of Saint Benedict Joseph Labre: Spiritual Support for all Brain Disorders
Feast day: April 16
Prayer to Saint Benedict Joseph Labre:
St. Benedict Joseph Labre, you gave up honor, money and home for love of Jesus. Help us to set our hearts on Jesus and not on the things of this world. You lived in obscurity among the poor in the streets. Enable us to see Jesus in our poor brothers and sisters and not judge by appearances. Make us realize that in helping them we are helping Jesus. Show us how to befriend them and not pass them by. St. Benedict Joseph Labre, you had a great love for prayer. Obtain for us the grace of persevering prayer, especially adoration of Jesus in the Most Blessed Sacrament. St. Benedict Joseph Labre, poor in the eyes of men but rich in the eyes of God, pray for us. Amen.
Saint Christina the Astonishing:
Patroness of the mentally ill. Saint Christina the Astonishing (also known as Saint Christina Mirabilis) lived her life to please God, not man. Many considered her to be insane. Like Saint Benedict Joseph Labre, there is an element of strangeness that caused her to live a life of poverty and loneliness in the eyes of the world.

Her story (from Butler's Lives of the Saints):
"Christina was born at Brusthem in the diocese of Liege, in 1150, and at the age of fifteen was left an orphan, with two elder sisters. When she was about twenty-two Christina had a seizure, was assumed to be dead, and in due course was carried in an open coffin to the church, where a Mass of requiem was begun. Suddenly, after the Agnus Dei, Christina sat up, soared to the beams of the roof, and there perched herself. Everyone fled from the church except her elder sister, who, though thoroughly frightened, gave a good example of recollection to the others by stopping till the end of Mass. The priest then made Christina come down (it was said that she had taken refuge up there because she could not bear the smell of sinful human bodies). She averred that she had actually been dead; that she had gone down to Hell and there recognized many friends, and to Purgatory, where she had seen more friends, and then to Heaven. This was only the beginning of a series of hardly less incredible occurrences. Christina fled into remote places, climbed trees and towers and rocks, and crawled into ovens, to escape from the smell of humans [she could smell sin]. She would handle fire with impunity and, in the coldest weather, dash into the river, or into a mill-race and be carried unharmed under the wheel. She prayed balancing herself on the top of a hurdle or curled up on the ground in such a way that she looked like a ball. Not unnaturally, everyone thought she was mad or 'full of devils,' and attempts were made to confine her, but she always broke loose... She lived by begging, dressed in rags, and behaved in a terrifying manner. The last years of her life Christina passed in the convent of St. Catherine at Saint-Trond, and there she died at the age of seventy-four. Even while she lived there some who regarded her with great respect. Louis, Count of Looz, treated her as a friend, welcoming her to his castle, accepting her rebukes, and on his deathbed insisting on manifesting his conscience to her. Blessed Mary of Oignies had regard for her, the prioress of St. Catherine's praised her obedience, and St. Lutgardis sought her advice."
Feast day: July 24
Prayer to Saint Christina the Astonishing:
St. Christina, you lived a life of poverty and loneliness in the eyes of others. But you knew that in the eyes of God, you were wealthy and had His love and the companionship of saints and angels. Help us to see beyond the things of the world and to realize we are never alone with God and that we are surrounded by a "great cloud of witnesses that have gone before us." Pray that we remember to offer up our sufferings for those who do not see beyond the material and who are seeking love and fulfillment, that they may come to know God and realize that they are never alone. Amen.
Venerable Matt Talbot:
Patron of Addictions/Alcoholics. Although not yet canonized, Venerable Matt Talbot may be considered a patron of those suffering from alcoholism. Alcoholism and other addictions usually do not fall under the heading of mental illness. However, those who suffer from addictions also often deal with emotional troubles, and for this reason it is important to remember them as well.
His story: Matt Talbot, the second of twelve children, was born on May 2, 1856, to Charles and Elizabeth Talbot. In Matt's early years he knew little security or stability. Compulsory school attendance was not in force, and Matt never attended school regularly.
At the age of twelve Matt got his first job; it was in a wine bottling store and that is when his excessive drinking began. One evening when he was twenty-eight years old he found a priest, went to confession, and "took the Pledge" for three months. Many times he felt he would not be able to hold out for three months, but within the year he renewed the pledge for life, never touching alcohol again (forty-one more years). His resolve was maintained by a new life of much prayer, daily Mass, hard work, and much penance. Matt Talbot collapsed and died of heart failure on June 7, 1925. Penitential chains were found on his body after his death.
It has been said that from his early teens until age twenty-eight Matt's only aim in life had been liquor; but from that point forward, his only aim was God.
Feast day: June 19
Prayer to Matt Talbot (also for his canonization):
Lord, in your servant, Matt Talbot, you have given us a wonderful example of triumph over addiction, of devotion to duty, and of lifelong reverence for the Most Holy Sacrament. May his life of prayer and penance give us courage to take up our crosses and follow in the footsteps of Our Lord and Saviour, Jesus Christ. Father, if it be your will that your beloved servant should be glorified by your Church, make known by your heavenly favors the power he enjoys in your sight. We ask this through the same Jesus Christ Our Lord. Amen.
Our Lady of Lourdes:
Patroness of healing. Pope Benedict XVI's message for the 2006 World Day of the Sick included a "special solicitude to the suffering of people with mental illness" and sought for the church communities to "bear witness to the tender mercy of God toward them." Lourdes, France, was the site of an apparition of Mary to Saint Bernadette Soubirous on Febuary 11, 1858. Since then, the miraculous water continues to attract pilgrims from all over the world who come seeking physical, mental, and spiritual cures. Our Lady of Lourdes is a special patroness for healing. Regardless of the kind of illness, we know we can always turn to Our Lady for help.
The story of Lourdes:
(Read the Story of St. Bernadette and Our Lady of Lourdes)
Feast day: February 11
Prayer to Our Lady of Lourdes:
Loving God, you are always near to us, especially when we are weak, suffering and vulnerable. Reach out to those who experience mental illness. Lift their burdens, calm their anxiety, and quiet their fears. Surround them with your healing presence that they may know that they are not alone. We ask this through the intercession of Our Lady of Lourdes and in the name of your Son, Jesus and the Holy Spirit, now and forever. Amen.
Remain Hopeful
The saints were not super-human. They were not free from sin, flaws, personal error, difficult obstacles, and illness, whether mental or physical. But complete surrender to God, and trust in His mercy, is what gave them the strength to allow God to do great works of charity through them. It is God who filled their lives and transformed their devastation into purity and beauty. They became beacons of hope.
Yes, there is a patron saint for everything. There is a prayer for every situation, hope for every suffering. Everything should begin with prayer. We may not see instant resolutions and healing, or the outcome which we personally had hoped for, but that doesn't mean we can't throw ourselves into the arms of God and His mercy.
Perhaps these holy men and women can be signs of hope for you. They are eager to intercede on your behalf!
And always turn to the Blessed Mother, for she is just that: our Mother!
Are there any other saints who you have turned to in the case of mental illness? Have you prayed for a loved one who bears such a cross?
We would love it if you shared your thoughts with us!