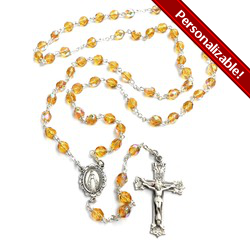 The November birthstone, the best birthstone in my humble opinion (because I was born in November), is Topaz. Besides having a unique sounding name, Topaz also has been attributed with many powers over the centuries. Some believe that Topaz gives increased intellect and strength.

The Ancient Egyptians realized the value of Topaz and believed that the gemstone's golden hue was created by Ra, the sun-god. (In Exodus, Ra is the pagan gods cast down by the Lord through the plague of 3 days' darkness!)

In the New Testament, topaz holds the honor of being one of the stones in the foundation of the heavenly Jerusalem, described in the Book of Revelation. The stunning November birthstone is also traditionally said to greatly improve relationships, both between friends and lovers.

This traditional poem articulates some of the classic attributes of Topaz:

"Who first comes to this world below

In dreary November's fog and snow,

Should prize the topaz amber hue,

Emblem of friends and lovers true."

If you are November-born, like myself, then I am sure that you enjoy the unique topaz gemstone. One of my favorite topaz gifts is my November birthstone rosary. A November birthstone rosary is a great way of getting your loved one something personal and important. You can lightheartedly tell them of the connection between topaz and strong relationships, and ask them to pray for you! If you would like to learn more about birthstones or rosaries, then please see the Birthstone Rosaries Guide.

This article has been updated and was originally published in November 2012. © The Catholic Company. All rights reserved.