Devotion to Our Lady of Sorrows, which accompanies the Blessed Virgin Mary in her grief as she watched her Son die for the sins of the world, is heightened during the season of Lent, as well as the month of September which is dedicated to Our Lady of Sorrows.
The feast of Our Lady of Sorrows is September 15th, and the Friday of Passiontide is dedicated to her Seven Sorrows.
[[3541, 15081]]
St. Bonaventure was a 13th century Franciscan friar, scholar, priest, and Doctor of the Church who had a tender devotion to the Blessed Mother. This prayer to the Virgin Mary under her title of Our Lady of Sorrows is attributed to him.
PRAYER TO OUR LADY OF SORROWS
O most holy Virgin, Mother of our Lord Jesus Christ,
by the overwhelming grief you experienced
when you witnessed the martyrdom,
the crucifixion, and the death of your divine Son,
look upon me with eyes of compassion,
and awaken in my heart a tender
commiseration for those sufferings,
as well as a sincere detestation
of my sins, in order that,
being disengaged from all undue affection
for the passing joys of this earth,
I may sigh after the eternal Jerusalem,
and that henceforward all my thoughts
and all my actions may be directed
towards this one most desirable object:
Honor, glory, and love to our divine Lord Jesus,
and to the holy and immaculate Mother of God. Amen.
Read next Our Lady's Seven Promises to Those Who Meditate on Her Seven Sorrows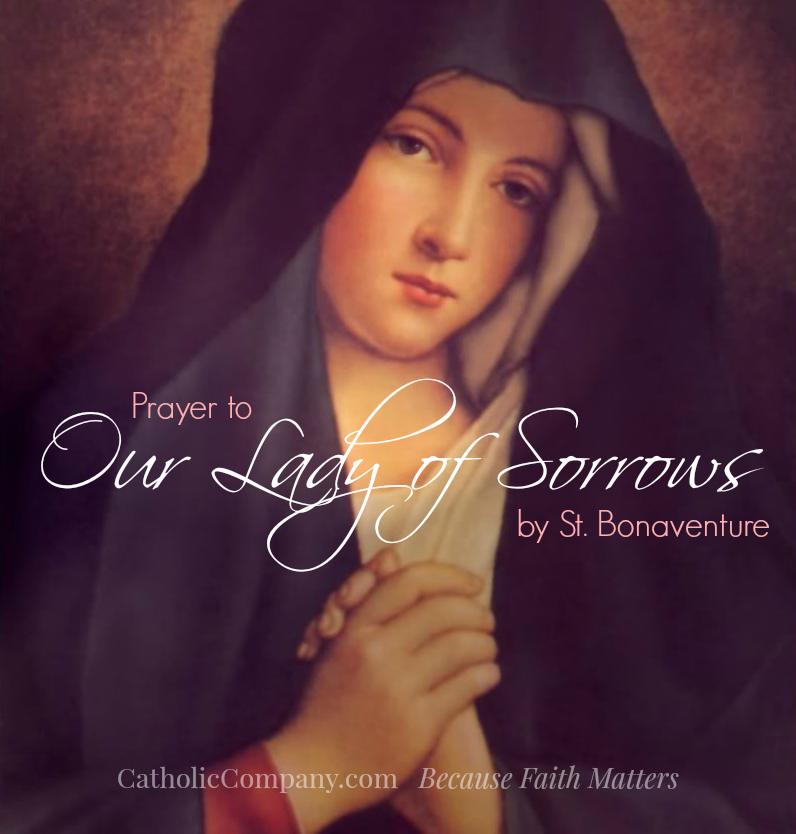 This article has been updated and was originally published in February 2015. © The Catholic Company. All rights reserved.