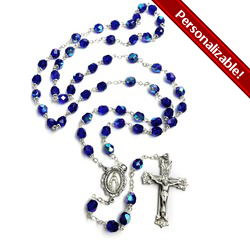 The precious birthstone for September is the sapphire. The sapphire is one of the 4 major precious birthstone gems (the others being diamond, ruby, and emerald). The sapphire got its name from the Latin word "saphirus" and the Greek word "sapheiros" which both mean "blue". Despite the fact that the sapphire can be found in many different colors, the most popular color throughout the centuries is blue.
Some ancient cultures believed that the core of the earth was made of blue sapphire, supposedly explaining why the sky is perceived as blue.
This traditional September birthstone poem speaks of some of the secular attributes given to the sapphire:
"A maiden born when autumn leaves
Are rustling in September's breeze,
A Sapphire on her brow should bind:
To bring her joy and peace of mind."
The sapphire has a unique history of power and awe. One tradition holds that the Ten Commandments were actually written on sapphire. The Bible references sapphire as one of the precious stones that would adorn Old Testament era kings. In the Book of Exodus, the writer describes the throne of God as being the color of a sapphire. That being said, sapphire is certainly a gem associated with honor, glory, and majesty.
It is hard to deny the great history and beauty of the September birthstone, sapphire. What better way to give the sapphire gemstone to a September-born loved one than in a September birthstone rosary? If your loved one is born in September, then why not give them a rosary which not only reminds them of their birthday, but also of their devotion to Mary, Queen of All Saints, and Christ, the King of our hearts? If you would like to learn more about birthstones, rosaries, or birthstone rosaries, then please read the Birthstone Rosaries Guide.
This article has been updated and was originally published in September 2012. © The Catholic Company. All rights reserved.