St. Juan Diego is the first indigenous saint from the Americas. He was a poor and humble peasant from the lowest class of Aztec Indians living in 16th century Mexico. His native name was Cuauhtlatoatzin, meaning, "eagle that talks." He was baptized at the age of fifty by Franciscan missionary priests from Spain, receiving the Christian name of Juan Diego.
Juan Diego was a devout man who would rise before dawn each weekend and walk many miles to church for Mass and religious instruction classes. It was he to whom Our Lady appeared as a pregnant Aztec princess on December 9, 1531 (the feast of the Immaculate Conception in those days) on the hill of Tepeyac, in present-day Mexico City, as he was on one of these long walks to Mass. He was the messenger chosen by God to be the messenger of the first Marian apparition in the New World.
THE APPARITION
The Blessed Virgin Mary spoke to him in his own native language, calling him by his baptized name, which means, "the most humble of my sons," or, "my son the least." She asked Juan Diego to request from the local bishop that a church be built in her honor on the site where she stood, in order that she might distribute her graces to those who call on her in their need.
"Know and understand well, you the most humble of my sons, that I am the ever virgin Holy Mary, Mother of the True God for whom we live, of the Creator of all things, Lord of heaven and the earth.
I wish that a temple be erected here quickly, so I may therein exhibit and give all my love, compassion, help, and protection, because I am your merciful mother, to you, and to all the inhabitants on this land and all the rest who love me, invoke and confide in me; listen there to their lamentations, and remedy all their miseries, afflictions and sorrows.
And to accomplish what my clemency pretends, go to the palace of the bishop of Mexico, and you will say to him that I manifest my great desire, that here on this plain a temple be built to me; you will accurately relate all you have seen and admired, and what you have heard.
Be assured that I will be most grateful and will reward you, because I will make you happy and worthy of recompense for the effort and fatigue in what you will obtain of what I have entrusted. Behold, you have heard my mandate, my humble son; go and put forth all your effort."
See also Our Lady of Guadalupe Historical Timeline (PDF)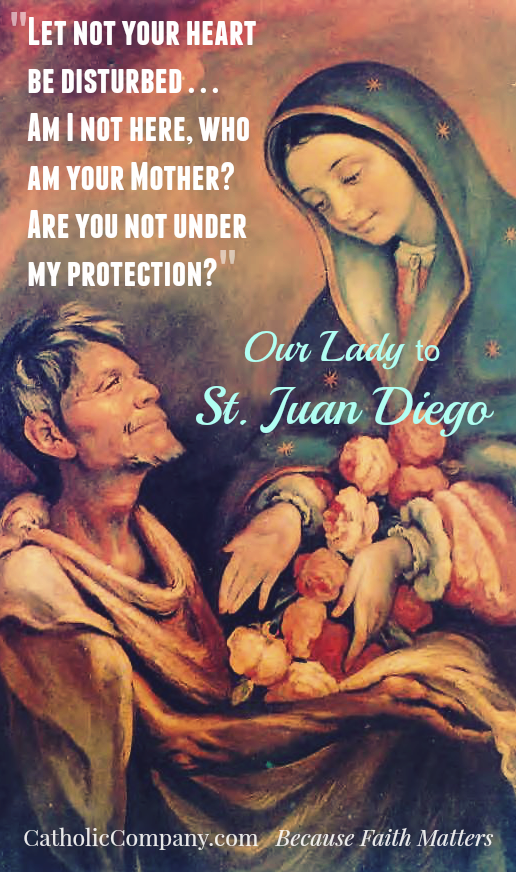 As proof of her appearance the Virgin Mary miraculously left her image on Juan Diego's tilma, now famously known as Our Lady of Guadalupe.
Juan Diego's tilma, which should have decomposed within a few years of the apparition, still bears the image of Our Lady in pristine condition as it hangs in one of the most famous Catholic pilgrimage sites of the world, the Basilica of Our Lady of Guadalupe in Mexico City, built near the hill of Tepeyac as Our Lady requested.
Juan Diego was canonized in 2002 by Pope St. John Paul II. The pope praised Juan Diego for his simple faith as a model of humility for all of us:
"Happy Juan Diego, true and faithful man! We entrust to you our lay brothers and sisters so that, feeling the call to holiness, they may imbue every area of social life with the spirit of the Gospel. Bless families, strengthen spouses in their marriage, sustain the efforts of parents to give their children a Christian upbringing. Look with favor upon the pain of those who are suffering in body or in spirit, on those afflicted by poverty, loneliness, marginalization, or ignorance".
Read more about St. Juan Diego along with a detailed account of Our Lady of Guadalupe's appearances and messages to him here. St. Juan Diego's feast day is December 9th, the date of the apparition, while Our Lady of Guadalupe's feast day is December 12th.
Read next Our Lady of Guadalupe Feast Day: Facts & Celebration Ideas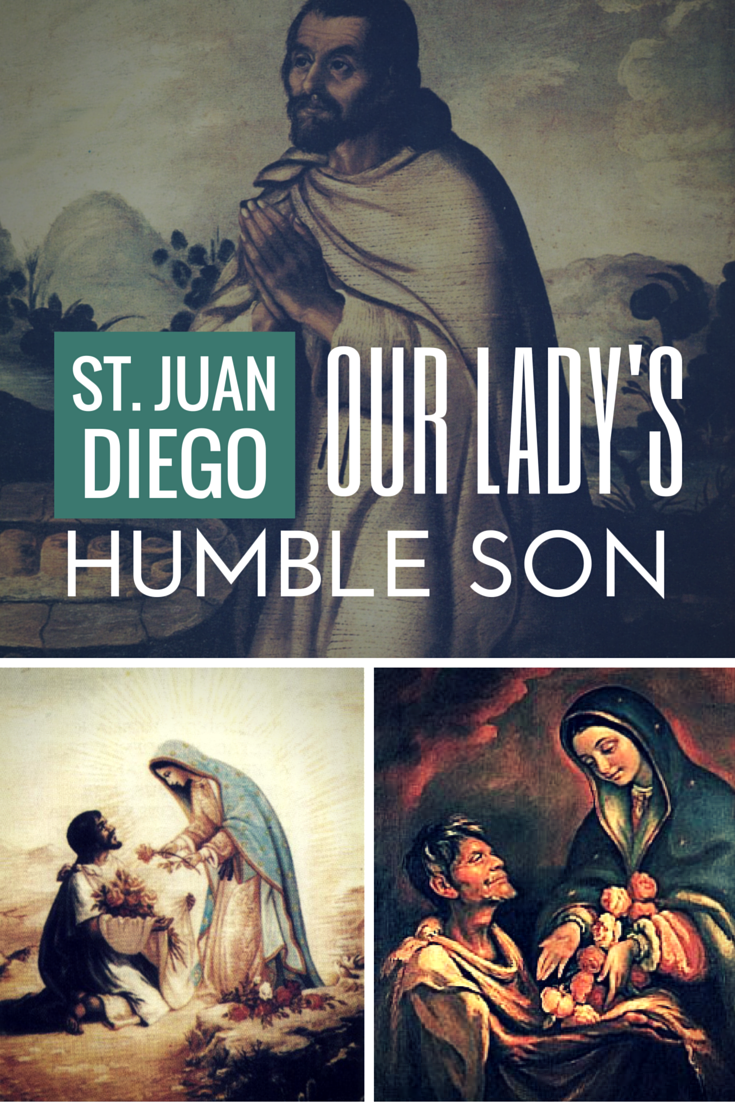 This article has been updated and was originally published in December 2014. Copyright © The Catholic Company. All rights reserved.